Series of bombings kill 115 in Pakistan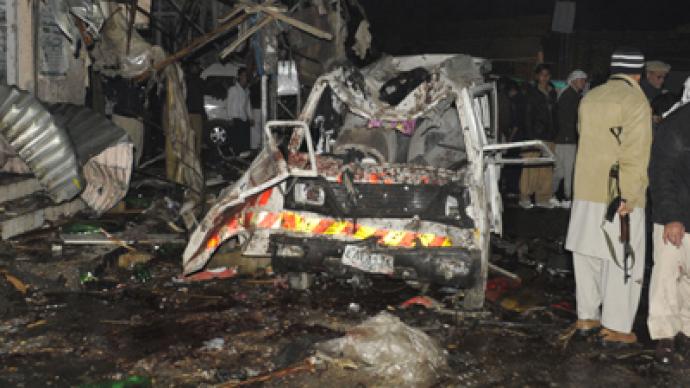 A string of bombings across Pakistan killed 115 on Thursday in one of the deadliest days in the country's recent history. A large portion of the victims were killed in twin attacks on a billiard hall in Quetta, in the country's southwest.
The Quetta billiard hall was hit by two blasts in five-minute succession Thursday night, killing 81 people and injuring another 120, police said. Quetta is located in the restive Baluchistan province, home to a nationalist uprising that rejects the Pakistani government's authority in the region. The blasts killed and injured rescue workers, police and journalists as well as residents socializing at the pool hall.
The double attack occurred in a majority Shiite Muslim area. Most of those killed or injured as the first bomb exploded were Shiite, according to police officer Mohammed Murtaza. The second was detonated as people swarmed the scene to help the victims, Murtaza said, and caused the building's roof to collapse. Pakistan is a majority Sunni country, and its Shiite minority often falls victim to such attacks.  Militant group Lashkar-e-Jhangvi, which is known for its terrorist acts targeting Shiites, claimed responsibility for the blasts. Lashkar-e-Jhangvi spokesman Bakar Saddiq told journalists that a suicide bomber had conducted the first blast, while the second was the result of a bomb placed in a car and detonated by remote control. Pakistani paramilitary soldiers were also targeted Thursday as a bomb hit a commercial area in Quetta. The blast killed twelve people and wounded 40 more, police said.
Insurgent separatist group United Baluch Army told local journalists that they were behind the attack. In the city of Mingora, in the city's north, a crowded Sunni mosque was hit by a bomb that killed 22 people and injured more than 70; no group has so far claimed responsibility.
You can share this story on social media: