Lynch mob in Pakistan burns man alive for allegedly desecrating Koran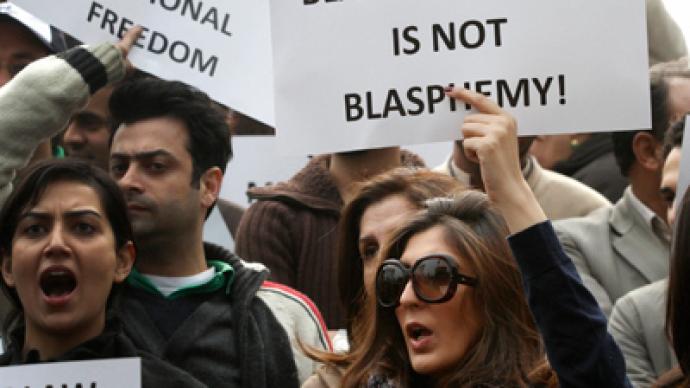 A mob in southern Pakistan broke into a police station and burned alive a man suspected of desecrating the Koran. The incident has prompted harsh criticism of the country's hardline blasphemy laws, which remain punishable by death.
Hundreds of people in the village of Sita reportedly surrounded a local police station where the man was being held after being arrested on Friday. The crowd then dragged the man out of the station and doused him in gasoline before setting him ablaze in the center of the village.
Local officials said that they detained around 30 residents of Sita in connection with the murder, and are conducting further raids to identify other parties involved in the incident.
One official also said that seven police officers had been arrested for negligence on duty.
The victim, who has not yet been identified by police, is believed to have spent Thursday night in the village mosque. The following morning, the charred remains of a Koran were found. Residents subsequently accused the man of desecrating the sacred text, beat him and dragged him to the police station.
Local police spokesperson Usman Ghani Siddique told Pakistani publication Dawn that the police held the suspect for five hours for questioning before he was taken by the mob. "He remained tight-lipped and didn't disclose his name every time police investigators asked him about it," Siddique said.
A watchman in the village reportedly provided eyewitness testimony to the police, saying that he had seen the suspect enter the mosque, throw away a rosary and torch the Koran at around 3:00am on Thursday night, Siddique added
Blasphemy in Pakistan is illegal and punishable by death, but the law does not clearly define what constitutes an act of blasphemy.
Rights groups have condemned Pakistan's blasphemy laws on numerous occasions and are pushing to have the law amended. However, the government has been reluctant to change the law for fear of igniting anger among the country's prominent religious parties.
The legislation made headlines earlier this year when 14-year-old Christian girl Rimsha Masih was accused of blasphemy after charred pages of an exercise book quoting the Koran were found in her belongings. Masih was released last month after a neighbor told police that she was framed, becoming the first person in Pakistani history to be granted bail in a blasphemy case.
Since 1988, about 1,000 cases of desecration of the Koran have been reported to the Pakistani police, the Human Rights Commission of Pakistan (HRCP) reported. The majority of those implicated are Christians, who are often the target of blasphemy cases. So far, 12 Pakistani Christians have been given the death penalty for blaspheming against Islam's Prophet Mohammed.