Silent crisis: Bahrain opposition seeks support, international attention in Russia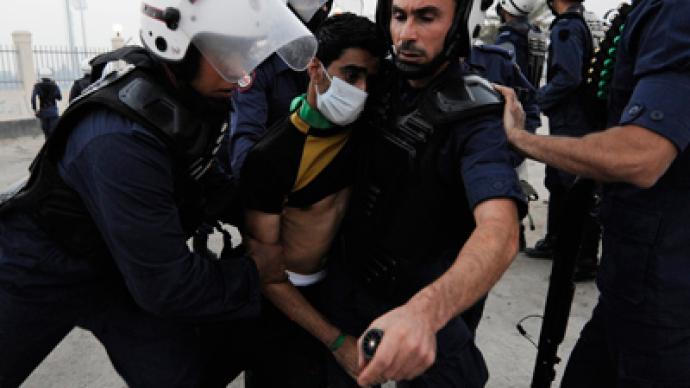 While Western media are focusing intensely on the Syrian unrest, injustices and human rights violations committed in Bahrain have been left out of sight, its opposition claims.
"The media have been silent about the crisis in Bahrain. There is a political reason to it and is immoral and unprofessional. Those who make a fuss about the events in Syria and Libya have forgotten that the Bahraini people are suffering from political repressions," Fazil Iskander Abbas, general secretary of National-Democratic movement, said at a press-conference in Moscow.On Friday, Bahrain opposition leaders met with Russian Foreign Ministry officials in Moscow to seek support in their struggle against the 'dictatorship'. Bahrain has experienced a military intervention from Saudi Arabian forces, who were invited to suppress "of its own people and popular movements and peaceful rallies" who demand a real legislative power and a government elected by the people, Fazil Abbas said. The 'dictatorship' is supported by the Arab League, who does not interfere in the situation in the country, and the US, which pursues its own economic and military interests, the opposition leader explained. Bahrain hosts US crucial naval military base. The opposition believes this is one of the reasons Washington closes eyes to people's demands for democracy."It's the US administration who blocks the launch of international criminal proceedings over the Bahraini regime. They have used double standards – on the one hand, they demand regime change in Syria, and on the other they support a dictatorship regime in Bahrain," said Abbas.The delegation expressed hope that the Bahraini people would accept and welcome Russian support. "We urge the Russian leadership to support a serious dialogue in Bahrain and, in case this dialogue doesn't take place, we urge Russia to take up a tough stance in international organizations that would prevent the US from ignoring the Bahraini crisis on the international level," Abbas said.Meanwhile, Bahraini authorities claim the country has no problems with freedom of speech or democracy."There is a democratic regime with high level of freedoms established in Bahrain," said Information Minister Samira Rajab Bahraini told RT.The minister denounced the opposition visit to Moscow, saying that use of international forces to interfere with sovereign issues of the state is not civilized or politically healthy. Recent months have seen massive anti-government protests in Bahrain where people demand greater democracy and calling for an end to the Al-Khalifa family's nearly four-decade rule. They accuse the ruling Sunni family of a crackdown on the country`s Shiite majority.Some of the peaceful rallies turned violent as police tried to disperse demonstrations using teargas and grenades. In January one protester died after inhaling poisonous teargas.
You can share this story on social media: