Thousands protest in Bahrain capital, demand 'torturers be brought to justice'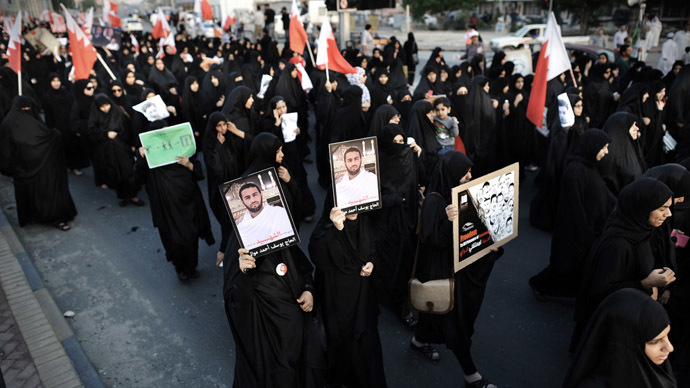 Thousands of Shiite protesters in Bahrain have staged a rally in the capital Manama, protesting against what they called repression against the opposition amid an ongoing crackdown on the largely peaceful demonstrations.
Protesters waved the country's national flag and chanted slogans on Friday, demanding that the detained opposition activists be freed. In a statement, the opposition denounced "the continuing arrests, political trial and discrimination" against Shiites. 
Also, the number of the arrested Shiites has grown in recent months, the opposition said. The march took place in the Shiite area of the capital, Bilad al-Qadim.  
Hapening now: prodemocracy rally calling for accountability and to bring tortures to justice #Bahrainpic.twitter.com/f7bgqI9dA6

— AlwefaqEN (@AlWefaqEN) November 22, 2013
In the latest case, on Monday 17 Shiite activists had their appeals against sentences of up to 15 years rejected, after being convicted of attacking the security forces. 
In October, the authorities closed an exhibition dedicated to the anti-government uprising and shut down the display, which was organized by the main opposition group Al-Wefaq. The group also staged the latest rally.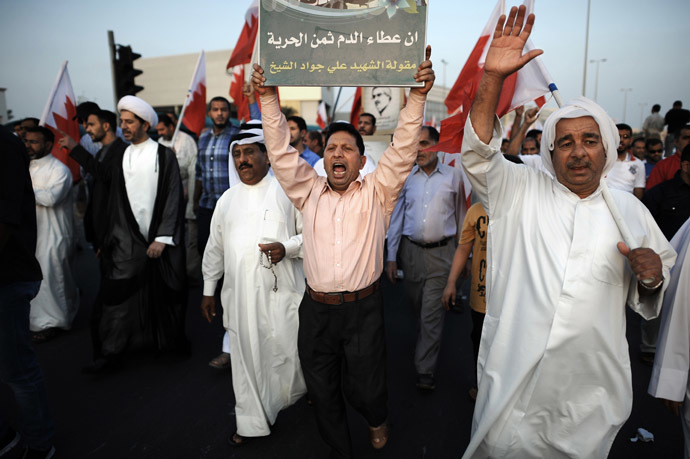 In August, the country's leader, King Hamad, attempted to ban demonstrations in Manama.

During Friday's march the opposition, led by the Shiite Al-Wefaq movement, claimed the government had not implemented the recommendations of a commission that looked into violence in the spring of 2011. 
Mass calling to End impunity of human rights abusers in #Bahrain as the govt failed to implement #BICI report pic.twitter.com/EWRbnebchM

— AlwefaqEN (@AlWefaqEN) November 22, 2013
The investigation was carried out in the autumn of 2011, and concluded that it was mainly Shiite protesters that were targeted during the crackdown.

The report concludes that "force and firearms were used in an excessive manner that was, on many occasions, unnecessary, disproportionate, and indiscriminate." 
The latest protest in the capital comes at the same time as the press conference dedicated to the anniversary of the investigation.
Another picture from the conference now on the implementation of the Bassiouni recs 2 years on the report #Bahrainpic.twitter.com/gbwsID8gjD

— AlwefaqEN (@AlWefaqEN) November 23, 2013
It was also confirmed by numerous international human rights organizations that the Bahraini government used systematic torture and other forms of physical and psychological abuse on detainees.

#BICI Commissioner view on implementation 2 years after #Bahrain#humanrightshttp://t.co/rfutCUUogh

— AlwefaqEN (@AlWefaqEN) November 23, 2013
Over 80 people have been killed in the crackdown since the protests began almost three years ago, according to the International Federation for Human Rights.
You can share this story on social media: