Bahrain shuts down exhibition on anti-government uprising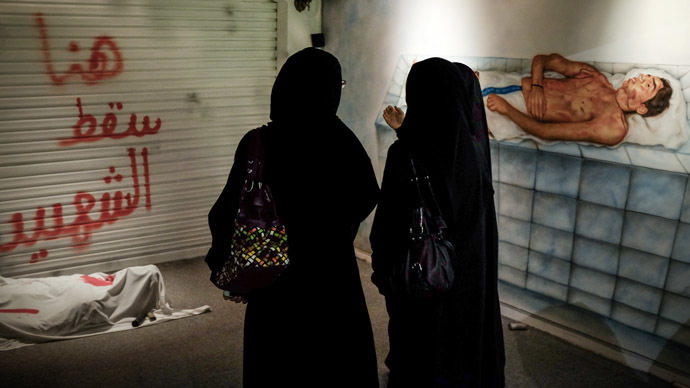 Bahraini riot police have stormed a building housing an exhibition dedicated to anti-government uprising and shut down the display, which was organized by the main opposition group, on grounds it contains "incitement material" and violates the law.
The raid on the "Museum of Revolution" exhibition came on Wednesday, two days after Shiite opposition group al-Wefaq opened it in one of their offices.
The display included scenes depicting ongoing unrest in Bahrain, such as protesters killed in clashes with security forces and alleged torture inside jails, as well as samples of used riot-control munitions and used tear gas canisters.
"The General Directorate of the Capital Governorate Police has found materials inside a building that the [al-Wefaq] society had changed into a location intended to reinforce hatred. This is a violation of the penal code in Bahrain," the Gulf Kingdom's state news agency, BNA said on Thursday.
The public prosecutor ordered the confiscation of these materials, while the organizers of the exhibition "were summoned and legal procedures were taken against them," the agency writes.
"The building houses a number of departments and units in addition to a museum that documents human rights violations perpetrated by the regime and as documented in the Bahrain Independent Commission of Inquiry," al-Wefaq said in a statement, as cited by Reuters agency.
Unrest has gripped the Persian Gulf Kingdom since February 2011 when an Arab Spring-inspired uprising, launched by majority Shiites, demanded reforms and more share in the country led by the Sunni Muslim al-Khalifa dynasty.
For about two months thousands of anti-government demonstrators had been camping at the Pearl Roundabout in the heart of Bahrain's capital, Manama, before government forces violently dispersed protesters and dismantled the monument that stood at the center of the square.
Photos of the 2011 revolt, and, also a life-size statue of an armed police officer, and personal belongings of killed protesters were also on display at the now shut-down Bahraini exhibition.
"The theme of the museum irritated authorities as it documents many incidents since the uprising in 2011 until now," said Al Wefaq's lawyer, Abdullah al-Shamlawi, as cited by AP.
Despite the violent crackdown, sporadic anti-government protests have continued in Bahrain. Last week, thousands took to the streets demanding more reforms and chanting anti-government slogans.
At least 65 people have been killed since the 2011 popular uprising, though rights groups believe the death toll is higher.
According to an Amnesty International 2013 report, "scores of people remained in prison or were detained for opposing the government, including prisoners of conscience and people sentenced after unfair trials".
The rights group said Bahrain's security forces "continued to use excessive force against protesters, resulting in deaths, and allegedly tortured or otherwise ill-treated detainees". At the same time, only a few security officers were "prosecuted for human rights violations committed in 2011, perpetuating a climate of impunity".
Earlier in October, UK based rights group, Bahrain Watch, exposed an enormous tear gas tender issued by Bahrain's Interior Ministry in June, which sought supplies of 1.6 million tear gas canisters and 145,000 stun grenades.
Bahrain, one of Washington's key allies in the region, hosts the US Navy's Fifth Fleet and participates in US-led military coalitions. Unlike cases in Syria or Libya, where governments also used violence against protesters, Washington has been rather restrained in its reaction to the Bahraini crisis, meeting the crackdown with words only but not actions.