9 sentenced in Bahrain to life imprisonment over 'terrorism'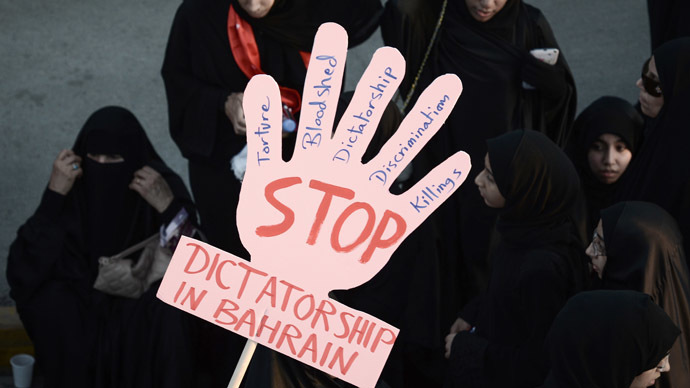 A court in Bahrain sentenced nine people to life in prison on charges of forming a militant group, manufacturing explosives and plotting attacks aimed at destabilizing the restive Gulf kingdom.
Four of the defendants were present in court for the verdicts and the remaining five, tried in absentia, saw an additional 10 years tacked onto their life-sentences for failing to turn themselves in.
Life imprisonment in Bahrain entails 25-years behind bars.
According to the Bahrain News Agency, the convicted men had turned a Manama warehouse into a bomb factory, where they had prepared explosives to attack security forces, civilians and private and public property "with the aim of undermining the stability of the country and harming its economic foundations".
Investigators say in searching the suspects' homes and other locations utilized in their plot, they seized highly explosive packs of nitro-glycerin and nitro-cellulose.
"A memory chip confiscated from suspects included video clips, lessons on manufacturing bombs and explosives, Al-Qassam-type rockets, anti-tank weapons and also methods for procurement of substances usable in making bombs. DNA tests and fingerprints from the locations were proven to be compatible with those of a number of the suspects," ANA continued.
Some of the men were implicated in a November 2011 bombing that damaged cars near the Bahrain International Exhibition & Convention Centre in the capital Manama.
Monday's ruling brings to 104 the number of Shi'ites jailed since September 29 in connection with violence in the Sunni-ruled Gulf kingdom.
Late last month in a mass show trial spanning six separate cases, 95 Bahraini protesters were sentenced to between three and 15 years in prison for allegedly trying to topple the country's constitutional monarchy, organizing bombings and inciting anti-government rallies.
The defendants received a total of 808 years in prison.
Unrest has gripped Sunni-ruled Bahrain since February 2011, when the majority Shi'ites started an uprising for greater political rights.
In August, King Hamad issued a decree instituting stricter punishments for "terror acts" in the strategically important kingdom, which is home to the US Navy's 5th Fleet.
The penalties include a minimum 10-year jail term for an attempted bombing. If the attack results in casualties, the sentence can be life imprisonment or possibly the death penalty.
The government crackdown has seen at least 89 people killed since the protests first began according to the International Federation for Human. Despite the violence, demonstrators continue to stage rallies in villages outside Manama, where clashes with police are a regular occurrence.