'Bahrain's iron fist': 95 activists jailed for 808 years in total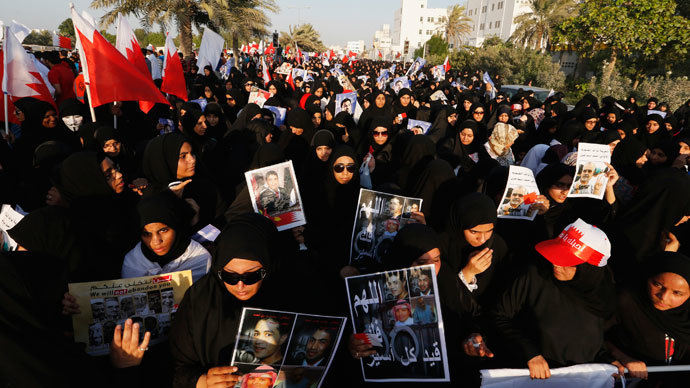 In a mass show trial in six separate cases, 95 Bahraini protesters were sentenced to between three and 15 years in prison for allegedly trying to topple the country's constitutional monarchy, organizing bombings and inciting anti-government rallies.
"There is no clear vision within the government authorities on how to solve this crisis," Jawad Fairooz, former member of Bahraini Parliament told RT. "Still they want to use the iron fist to crackdown [against] all uprisings and detain all the activists and put such harsh sentences with this unfair trial."

Fairooz said that many popular human rights activists were among the 95 individuals receiving a total of 808 years behind bars.
"It was so clear it was not a fair trial, not a justice, it is just a political message to the – first of all to the opposition – that the government will continue with their hardline action against the opposition, and at the same time to the international community because everyone knows two weeks ago there was a clear condemnation of violation of human rights in Bahrain after 47 countries, including the allies of Bahraini government, the United States, issued that statement [at the UN Human Rights Council]."
The 95 people were reportedly jailed in six separated cases across the country, Bahrain Mirror reports.
In one of the cases 50 activists were convicted, twenty of them in absentia, said Mohamed al-Maskati, head of the Bahrain Youth Society for Human Rights. A judicial source said 16 defendants were handed 15-year terms, while four others were jailed for 10 years and the other 30 were sentenced to five years.
The defendants, including Iraqi cleric Hadi al-Mudaressi, were charged with forming the February 14 Revolution Youth Coalition, which Bahraini authorities accuse of terrorism.
The Bahrain Center for Human Rights  told Reuters that human rights campaigners were among those convicted "under the internationally criticized and vague terrorism law."
"From the time that the defendants were abducted, tortured and then sentences, nothing was done according to international standards of a fair trial. If these fifty people were really guilty of a crime, why was the only evidence presented confessions extracted under torture? This was a sham trial with a political verdict, they should be released immediately," the group's president, Maryam Al-Khawaja, said in a statement.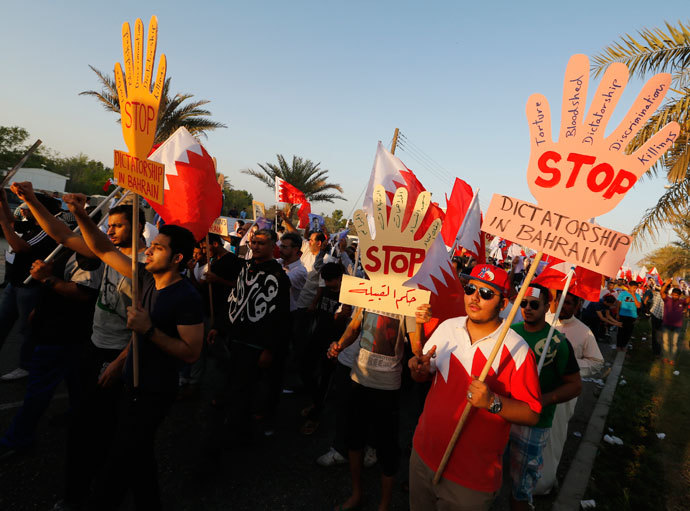 The Gulf state is a predominantly Shiite country and has seen frequent unrest since authorities cracked down on the popular uprising against the ruling Sunni monarchy in 2011.
Human Rights Watch has accused the Bahraini government of violence and torture, with frequent reports of child protesters facing conditions which border on torture while in custody.
Human rights organizations have also accused the West of turing a blind eye to the crackdown. 
Bahrain, a small island nation and home to US Fifth Fleet, has seen 80 people killed since the Bahrain protests erupted, according to the International Federation for Human Rights. Hundreds more have been arrested.
You can share this story on social media: