Thousands take to streets in Bahrain to protest for democracy (PHOTOS)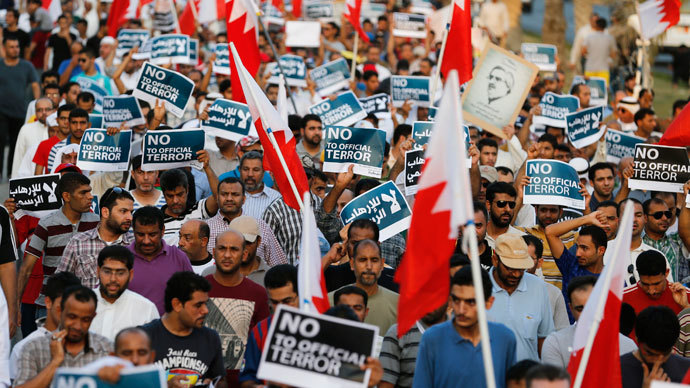 Thousands of Bahrainis took to the streets in a march for democratic reform outside the capital Manama, 10 days after a police crackdown on a similar demonstration organized online by activists inspired by the Egyptian protests.
The protesters marched west of the capital on Friday, protesting against the stringent new laws that prohibit public dissent. This, however, was a sanctioned march and no trouble or scuffles with police were seen this time around.
"Down with Hamad", the crowd chanted as it walked with national red-and-white flags and banners that called for King Hamad bin Isaa al-Khalifa and Prime Minister Sheikh Khalifa bin Salman al-Khalifa to go.
King Hamad has been in power since 1999.
One protester, a 38-year-old secretary, Hayat al-Abbar, told Reuters that "we are here…because we want freedom. We are used to oppression and tear gas and beatings," he said, as others walked shouting that they "will never forget those who sacrificed their lives."

Tens of thousands participated in the opposition's protest for #democracy today and which ended peacefully #Bahrainpic.twitter.com/GJTHzN5Gmg

— AlwefaqEN (@AlWefaqEN) August 23, 2013
Another protester, 51-year-old engineer, Abdelghani al-Mazoug, was quoted as saying "Where are the jobs? … We will not bow to anyone but God. We are not scared of anyone and I'm ready to for my country."
The protests had been organized by the Tamarod Bahrain campaign, which features several opposition groups and has adopted the name of Egypt's Tamarod movement, which shouldered the task of organizing protests against former Egyptian President Mohamed Morsi.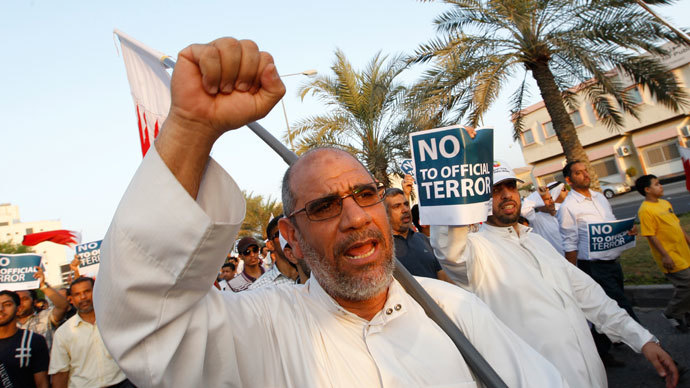 The rally had gone off without incidents, unlike the previous event on August 14, which marked two-and-a-half years since the unsuccessful uprising and the 42nd anniversary of the Kingdom's independence from Great Britain. On that occasion the police used tear-gas and birdshot.
thats how peaceful is the protest & protesters in #bahrain VS brutal official terrorism pic.twitter.com/M0iCAsoLQ1

— FREE NABEEL RAJAB (@majedtareef) August 23, 2013
Two-and-a-half years have gone by since Bahrain's own February 2011 Spring, when a Shiite-led uprising against the Sunni al-Khalifa dynasty resulted in security forces crushing the revolt and killing at least 35 people in the process. Sporadic unrest has been going on since.
In July Bahrain's parliament passed strict new laws to curb opposition activities, including banning protests in the capital and giving authorities the right to strip citizenship from those convicted of violence.
What the Bahraini opposition demands is a constitutional monarchy with a democratically-elected parliament picking the government. They also highlight widespread discrimination by the minority Sunni regime in areas like employment and public services. The government denies any wrongdoing.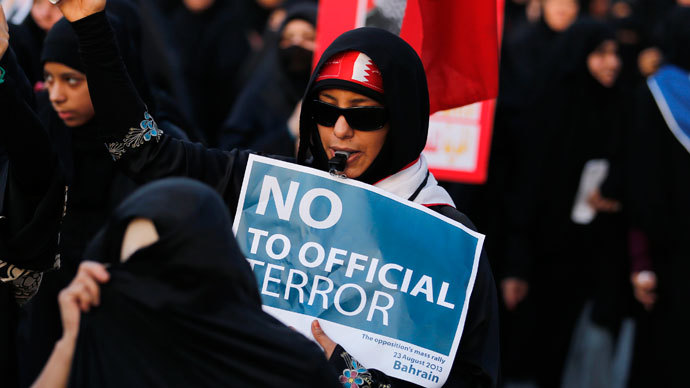 Clashes have calmed down in recent months after the ruling family introduced some reforms – including giving the elected parliament more overseeing powers and promising deeper investigations into alleged abuses by security forces. Many Shiites have dismissed the reforms as window dressing, however, saying that the monarchy is still in control of all key decision-making.
Bahrain sits in the midst of a battle for Gulf influence between neighboring Shiite Iran and a Sunni Saudi Arabia. The country is home to the US Navy's 5th Fleet, as well as being the Pentagon's main base to counter Iran's expanding military presence in the Gulf and protect oil shipping lanes through the Gulf of Hormuz.