Teargas for Shiites: Anti-blockade rally clamped down in Bahrain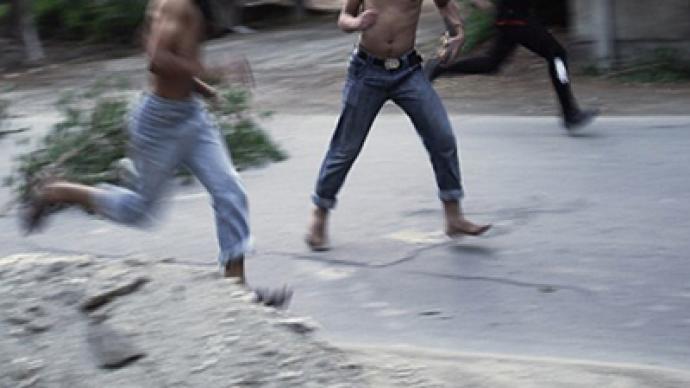 Bahraini police used teargas and stun grenades against opposition activists overnight, as they rallied against the blockade of a Shiite neighborhood. The government is ramping up pressure as the wave of protests is approaching its third year.
The rally on Friday night came as people responded to the call of the opposition February 14 Youth Coalition, named after the date the protests first erupted in Bahrain back in 2011. Residents of Shiite-populated villages around the capital Manama were calling to lift the government blockade of Mahazza, a Shiite neighborhood near the capital, which has been cut off since early November.The protesters were waving of national flags and pictures of political prisoners as they chanted calls to Bahraini ruler King Hamad to step down.Activists say some of the protesters were injured as police cracked down on the rally, firing teargas, stun grenades and buck shot. The exact number of casualties is unavailable, because injured protesters often fail to go to hospital for treatment out of fear of arrest.Police also arrested a number of demonstrators, as skirmishes continued into the early morning, witnesses said.
Earlier on Friday, Amnesty International called on Manama to release the 13 prisoners who had been sentenced in June 2011 to terms between five years and live for their role in the anti-government protest. A military tribunal convicted them for crimes, including "setting up terror groups to topple the regime and change the constitution."The human rights organization said it found no evidence of the convicts' doing anything other than taking part in peaceful protest. Amnesty called on a Bahraini civilian court, which is to review the cases starting next Monday to quash the sentences and set the prisoners of conscience free. The 13 include prominent opposition activists Abdulhadi Al-Khawaja and Ebrahim Sharif."These men must be immediately and unconditionally released. Their sentences and convictions must be quashed. Bahrain's allies must also put pressure on the authorities to drop the pretense of reform and immediately back up their words with real actions," said Hassiba Hadj Sahraoui, deputy director of Amnesty International's Middle East and North Africa program.
The call follows an Amnesty critical report last week, which said the country failed to follow recommendations of an independent commission, which investigated the 2011 violent crackdown on the opposition. The organization said Bahraini government ramped up repressions instead of investigating human rights abuses and shelved the promised political reforms.Over the year Bahrain stripped citizenship from 31 opposition figures, sentencedmedics to prison terms for treating injured activists, routinely dispersed protest gatherings and arrested people for as little as criticizing the ruling monarch. It also sentenced Nabeel Rajab, a prominent human rights activist and popular Bahraini blogger to three years in prison for calling for unauthorized marches through social networking sites and participating in them.