Bahrain crackdown: West talks, Paramilitary forces walk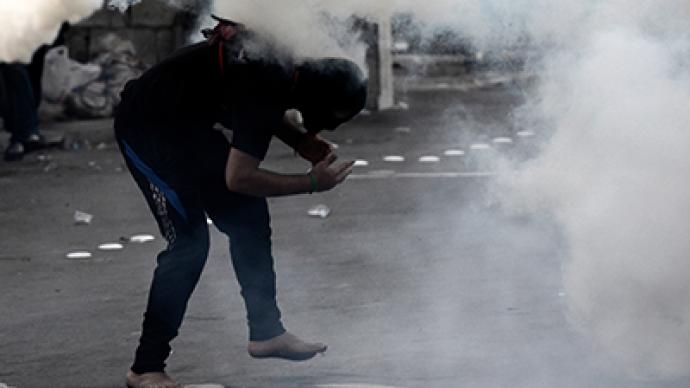 The head of Bahrain's main opposition group says envoys from Western states are in discussions with the Gulf island's rulers to end the conflict there. Meanwhile, paramilitary forces have been deployed to quash 21 months of local political unrest.
Sheik Ali Salman told the Associated Press the talks are unlikely to bear fruit, as increasingly radicalized protesters are acting independently of the organized opposition, including his Al Wefaq group.Following a string of firebomb attacks and clashes, Bahrain's paramilitary National Guard – which acts independent of the country's regular military forces – was deployed to "strategic locations" on Saturday.Guard troops were reportedly setting up in Sitra – dubbed the "Capital of the Revolution" by the opposition – Hadi al-Musawi, a spokesman for Al Wefaq said. The guard forces had previously only been used in specific locations, like the capital, Manama.Intense fighting between protesters and security forces broke out on Saturday as mourners headed to the funeral of a teenager who was killed the day before.The opposition says the boy was hit by a car after being chased onto a highway by police, though the authorities deny having any part in his death.Violence erupted on Saturday after the government set up checkpoints and military roadblocks to prevent mourners from reaching the funeral for Ali Radhi. Similar security measures prevented people from attending Friday prayer, leading to the chaos that allegedly resulted in Rahdi's death.Over 55 people have died and hundreds have been arrested amidst 21 months of unrest in the strategically vital country, which is home to the US Navy's 5th fleet.Increasingly draconian measures have been implemented as the Sunni-ruled kingdom has attempted to quash dissent amongst its Shiite majority, which has been demanding sweeping political reforms.On Wednesday the government revoked the citizenship of 31 activists, claiming they presented threats to state security, the interior ministry said. The announcement coincided with the arrests of four prominent opposition activists implicated in a series of bomb blasts that ripped through the capital on Monday, killing two.In late October, Bahraini authorities indefinitely banned all protest gatherings and rallies.
You can share this story on social media: