Bahrain demonstrator jailed for insulting national flag
Published time: 16 May, 2013 18:49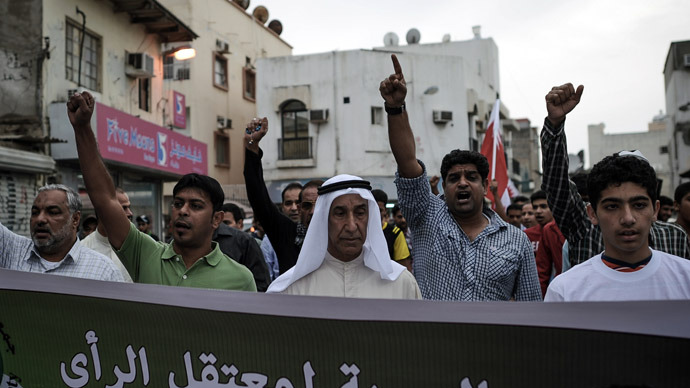 A 62-year-old Bahraini protester has been sentenced to three months in prison for hanging a national flag from his truck during a 2011 rally. The case comes after tougher penalties were introduced for insults to the Gulf nation's ruler or symbols.
Prosecutors stated that draping the flag over a vehicle during the 2011 rally was an offense under the new restrictions, Associated Press reported adding that the specific charges remained unclear.
Abdulla Sayegh admitted that he attended pro-reform protests, however maintained that many Bahrainis fly flags from vehicles during all kinds of gatherings, be it celebrations, anti-government or pro-government rallies.
The demonstrator plans to appeal the jail sentence and the 100 dinar ($265) fine, according to his defense lawyer Hashim Saleh.
This comes after six tweeters were jailed on Wednesday for posting comments about King Hamad bin Issa al Khalifa, which the court regarded as 'abusing freedom of expression.'
In April, Bahrain introduced stricter penalties making it illegal to insult the Gulf state's King Hamad or national symbols, charges that carry up to five-year jail sentences.
These measures come against the background of two years of protests led by the kingdom's majority Shiites against the minority Sunni-led government. The protesters are continuingly calling for a transfer to a democratic system of government. Shiites complain of discrimination in jobs and government while in turn their loyalty is questioned by the Al Khalifa ruling family.
Rallies intensified as Bahrain was to host a Formula 1 race on April 21, protestors labeling the event 'race for blood' as it overshadows the many alleged human rights abuses in the Gulf kingdom. Human Rights Watch cites multiple reports of physical and psychological torture that emerged during the grand prix.
Earlier in the week, the kingdom for the second time canceled the visit of the UN's special rapporteur on torture, Juan Mendez, who was to probe police abuses of power.
More than 80 people have died in uprisings since the pro-democracy protests begun in February 2011, according to Human Rights Watch. The government denies the allegations of discrimination and of arbitrary arrests and abuses by security forces.