Bahrain issues 31 fifteen-year jail terms over police attack
Bahrain's court has sentenced 31 protesters to 15 years in prison for attacking a police patrol in a Shiite village, media reported. The accused claim they were coerced into confessing.
The protesters were charged with attempted murder, setting a police car ablaze, protesting and possession of petrol bombs, The Daily Star Lebanon quoted one of the lawyers as saying.     
The whereabouts of 14 other defendants remain unknown.
Another lawyer has confirmed that the accused have denied the charges against them and have been tortured into confessing.
Police arrested the protesters in March after they allegedly attacked a patrol car with Molotov cocktails, injuring four officers in Bahrain's northwestern village of Sitra.
Anti-government activist Mohammed Alsafy says the sentencing won't affect future protests.

"The protests have only grown larger in the past two years. We've witnessed that the harsher the sentences are, the more anger it brings to the people and the more reasons it gives them to protest…for now, we don't have any other choice but to protest," he told RT.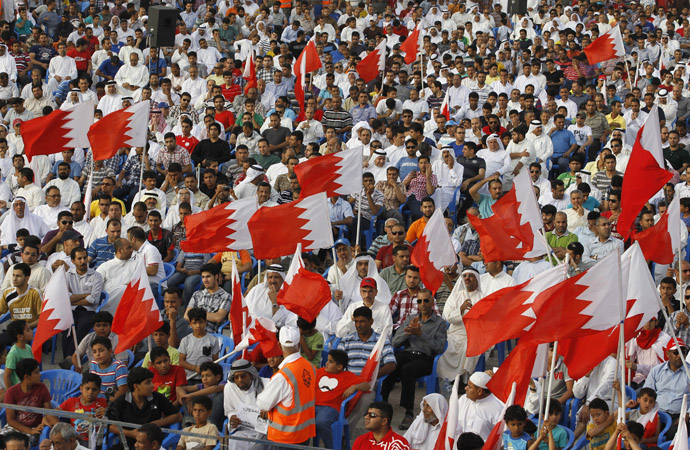 Demonstrations – calling for democracy and an end to the monarchy – have been continuing in Bahrain for two years. Protests particularly intensified as the Gulf country was preparing to host a Formula 1 race on April 21. The protesters claimed the F1 event – which they labeled 'race for blood' – overshadowed the ruling Bahraini Sunni royal family's many human rights abuses and repression of the country's Shiite population.
One of the best-known cases of the Bahraini regime cracking down on opposition was the arrest of prominent activist Nabeel Rajab, who openly criticized the regime, following an interview on RT for Julian Assange's show The World Tomorrow. In August 2012 Rajab was sentenced to three years in jail for 'participation in an illegal assembly' and 'calling for a march without prior notification'.
Earlier in the week, the kingdom – which is home of the US Navy's Fifth Fleet - canceled next month's planned visit by the United Nations' torture expert, citing delays in 'ongoing national dialogue'.
Human rights groups have reported that at least 80 people have been killed and thousands arrested since the demonstrations began in 2011.
You can share this story on social media: