Bahrain court jails 12 protesters, acquits policeman
Published time: 24 Nov, 2013 17:48
Edited time: 25 Nov, 2013 00:14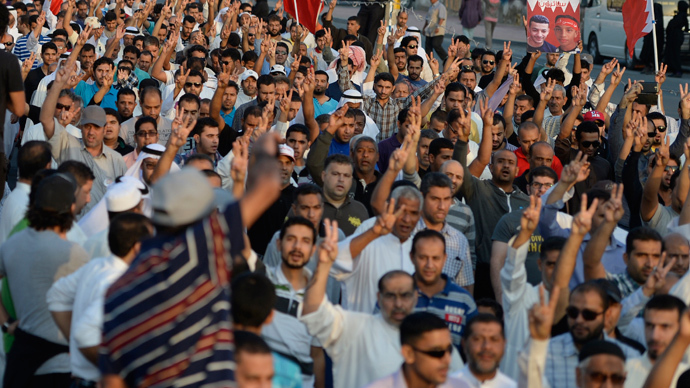 Bahrain has sentenced 12 protesters to 10 years behind bars for attempting to murder a policeman in 2012 during the government crackdown on protests. In a separate case an officer was acquitted of trying to kill a protester because of insufficient proof.
Seventeen Shiite protesters had all been charged with attempted murder of police officers, taking part in an unauthorized demonstration and possessing petrol bombs, AFP reported. One of them was handed a three year prison sentence and four more were acquitted, while others were sentenced to 10 years behind bars.
The demonstrators were arrested on May 1, 2012 in a village near the capital Manama during the nation-wide protests demanding democratic reforms in the Sunni-ruled Kingdom. They were detained after allegedly attacking a police patrol and injuring an officer who suffered burns on his hands.

Meanwhile, in another case on Sunday the Manama court acquitted a Pakistani officer employed by the Interior Ministry of attempting to kill a Shiite protester, according to an AFP source. The policeman was detained after the demonstrator Saleh Abbas was shot dead during an anti-government rally in Shakura village on April 19, 2012. A medical examination of the dead body showed that Abbas was also hit by buckshot in the heart, lung, stomach and spleen.
The policeman admitted under cross-examination that he was the only member of his patrol to have opened fire on the day of the killing, lawyers said.
Also on Sunday Hussain M. Jawad, the head of European Bahraini Organization for Human Rights wrote on his Twitter account that he was arrested. However it is yet unclear on what charges.
The Kingdom of Bahrain has been witnessing mass protests led by the majority Shiites against the minority Sunni-led government for two years.

The government has been trying to suppress the uprising by introducing stricter penalties. In August, the country's leader, King Hamad officialy banned unauthorized protests in Manama.
He also ordered stiffer penalties for "terror acts," which include a minimum ten-year prison sentence for an attempted attack and a life imprisonment or the death penalty if the bombing caused casualties.
The Kingdom which hosts the US Fifth Fleet has faced widespread criticism over its harsh sentencing of activists within the country. In October, fifty Shiite activists were jailed for up to 15 years in a mass show trial. The verdict was slammed by human rights watchdog, Amnesty International that called it 'appalling'.