14 car bombs in Baghdad kill at least 54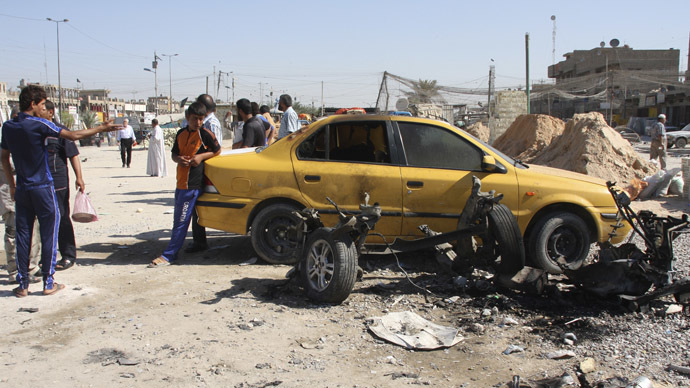 A series of car bombs in mostly Shiite neighborhoods of the Iraqi capital, Baghdad, have claimed over 50 lives, leaving over 100 people injured. Officials are blaming Al-Qaeda for the string of attacks, but no group has claimed responsibility yet.
Car bombs went off in crowded outdoor market places and parking lots in the Shiite-dominated neighborhoods of New Baghdad, Habibiya, Kazimiyah, Shaab, Sabaa al-Bour, Shula, Ur; the Sunni neighborhoods of Jamiaa and Ghazaliyah; and the eastern Sadr-City district.
The blasts left at least 54 people dead and 139 wounded, AP cited police and medical sources as saying. At several explosion sites fires broke out and firefighters assisted by police that sealed the sites off spent some time extinguishing debris.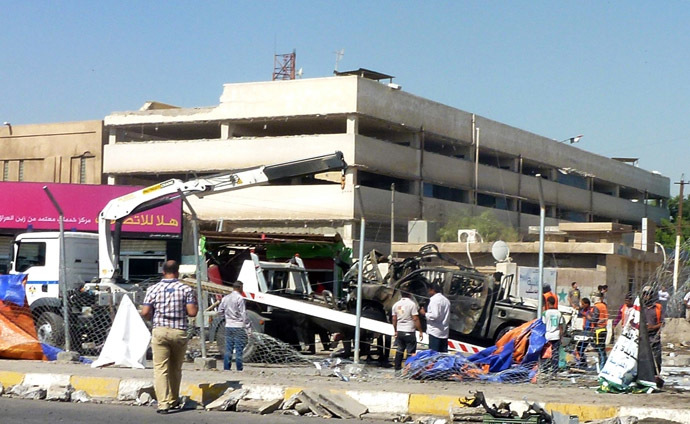 Iraq's Interior Ministry laid the blame on Al-Qaeda-linked insurgents. Earlier this year Al-Qaeda's organizations in Iraq and Syria merged to form the Islamic State of Iraq and the Levant, which has been staging attacks in both Iraq and Syria.
"Our war with terrorism goes on," Interior Ministry spokesman Saad Maan told AP. "Part of the problem is the political infighting and regional conflicts ... There are shortcomings and we need to develop our capabilities mainly in the intelligence-gathering efforts."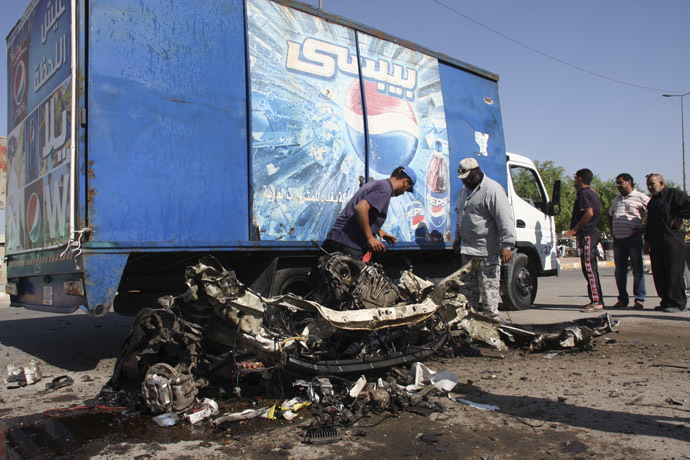 According to the Iraq Body Count monitoring group, more than 6,000 people have died in Iraq in terrorist attacks so far this year. Explosions with multiple casualties occur in Iraq practically every day.
Monday's attacks came a day after a series of blasts struck various parts of Iraq, including two suicide bombings in the comparatively quiet region of Kurdistan, killed 46 people.
Last Saturday, a bomb went off at a funeral in Sadr City, killing 104 people.
The ongoing wave of violence resembles the situation in 2006-07, when Iraq was in the midst of a brutal sectarian civil war.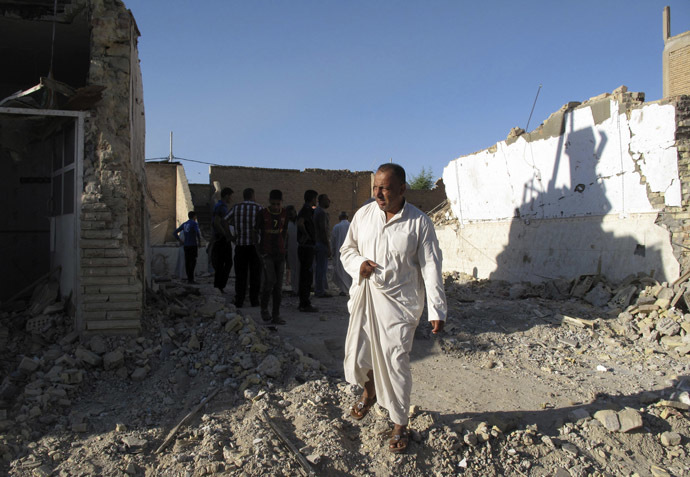 In the first place Al Qaeda is staging terror acts against the Sunni minority in Iraq trying to stir discontent against the Shiite that forms the ruling majority of the country, including the government.
Another reason is sectarian warfare ignited in Iraq by the American occupation which practically ended up with a civil war in the country already devastated by years of foreign occupation.
Iraqi Sunnis and Shiites are actually already fighting against each other – in neighboring Syria, where Sunni rebels with Al Qaeda links are desperately trying to overthrow the Alawite government of President Bashar Assad backed by Shiite Iran.
You can share this story on social media: