Bomb at football pitch kills teenagers in Iraq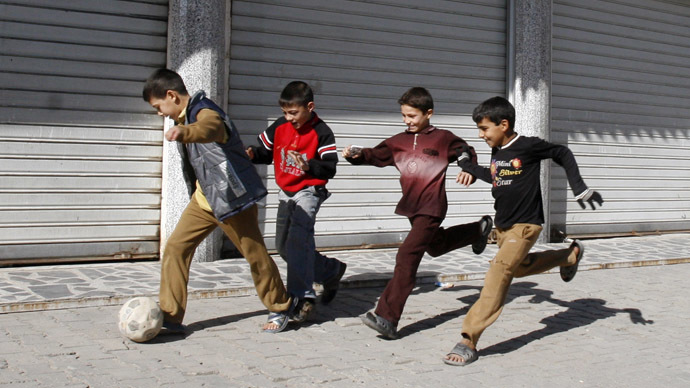 A bomb planted at a football pitch in Baghdad has killed 12 people, most of them children younger than 16 in the latest spate of attacks targeting Iraqis playing and watching sports. Violence across Iraq claimed another six lives on Sunday.
Interior ministry official and a medical source say that some 25 others were wounded in the attack on the football field that took place in the southeast of the Iraqi capital. Reuters reported that 12 people were killed, while AFP put the death toll at nine. Most of the victims were under the age of 16, a source told AFP.

The blast was the latest in a number of attacks targeting football enthusiasts that come out to play or just watch matches in the cafes. The reason for such attacks is not clear.

The violence also follows continued sectarian attacks on Sunni and Shiite mosques, as well as markets and the country's security forces.

On Saturday, seven people were killed by bombs targeting young people who had gathered to watch a match.

In other parts of Iraq on Sunday, assaults outside the capital killed at least four people. Authorities also found the bodies of two men shot dead.

 A 17-year-old girl killed by a roadside bomb near Dawr  was among the victims.

The latest spate in sectarian violence pushed June's death toll to 448, according to AFP. It is estimated that more than 1,000 lives were lost in May alone.

More than 1,000 people died in unrest across Iraq in April and May.

Violence began to spark up again in April-May, which saw attacks deadlier in numbers than any that have taken place since 2008. Experts are already comparing the latest surge to the bloodiest years of 2006-2007.