Azerbaijan rattling sabre over disputed territory
Published time: 26 Jun, 2011 11:33
Edited time: 28 Jun, 2011 17:26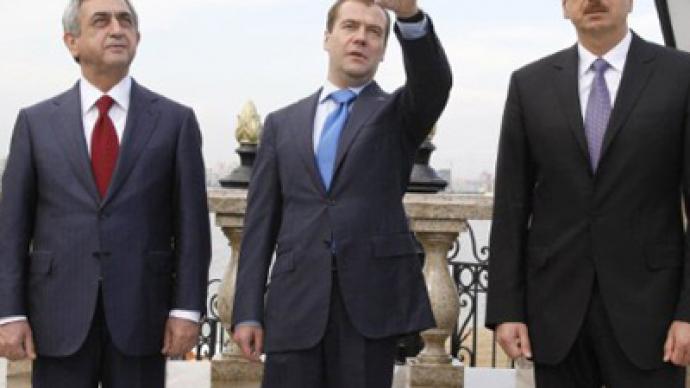 The Azerbaijani president has stepped up aggressive rhetoric reiterating that his country intends to restore its "territorial integrity" by any means and get back the disputed Nagorno-Karabakh region, "occupied by Armenia."
Speaking before the Azerbaijani Forces' Military Parade on Sunday, President Ilkham Aliyev said that the Nagorno-Karabakh region, which has been the subject of numerous OSCE-mediated talks between Azerbaijan and Armenia, is Azerbaijan's territory and sooner or later will return to the country.

"I am completely sure that our territorial integrity will be restored by any means," he said. "In order to do that, we must be even stronger."

The Azerbaijani president stressed that his country intends to continue diplomatic efforts to retain its territorial integrity, but observed that Azerbaijan still lives in a "state of war."

"The war is not over yet, it is only the first stage of this war which has been completed. The country living in a state of war should pay attention to its military," he added.

According to the president, in the last few years Azerbaijan's military spending has seen a drastic increase from US$160 million in 2003 to US$ 3.3 billion in 2011.

Aliyev pointed out that recently Azerbaijan's military spending has exceeded Armenia's entire state budget by 50 per cent.  

He added that the military budget will remain his country's top priority until Armenia leaves "Azerbaijani land" and signs a peace treaty with Azerbaijan.

"Nagorno-Karabakh is indigenously Azerbaijani land," Aliyev said. "This is how it has always been and this is how it is now. It is just temporarily under occupation, but this occupation cannot last long."   

The Nagorno-Karabakh region has been a bone of contention between Armenia and Azerbaijan since 1988, when the Armenian population-dominated territory, which had been a part of Azerbaijan's Soviet republic since 1921, declared its will to join Armenia.

In 1991, supported by Armenia, the region announced its independence. The move provoked a conflict in the region which lasted for about three years and claimed up to 25,000 lives, leaving another 25,000 people injured and hundreds of thousands displaced.

After Armenia, Nagorno-Karabakh and Azerbaijan signed a ceasefire agreement in May 1994, the Armenian side took control over the territory of the Nagorno-Karabakh region as well as seven other regions adjacent to it. Since the end of the armed conflict, Nagorno-Karabakh has been de facto running its own affairs.  

Earlier, in March 1992, Russia initiated the formation of the so-called OSCE Minsk-group, including Russia, the USA, France and nine other member states, in order to mediate the settlement of the Nagorno-Karabakh conflict. Beginning in 1994, the talks to define the status of the territory have been conducted on different levels.

However, ever since, despite numerous diplomatic efforts, the negotiating sides, which include Azerbaijan, Armenia and, indirectly, de facto Nagorno-Karabakh's authorities, remain firmly on their positions.

While Azerbaijan insists that the territory should be considered a part of Azerbaijan, albeit having a status of autonomy, Armenia says that any question of the territory's dependence on Azerbaijan should be ruled out and the settlement should include recognition of the unrecognized Nagorno-Karabakh republic internationally.  

There is also a tripartite format of meetings aimed at settling the conflict between the sides, attended by the presidents of Russia, Armenia and Azerbaijan.

The latest talks in this format took place on Saturday in the city of Kazan, where the sides agreed to continue the dialogue. However, many experts agree that the meeting brought no real results.