Eye-no-sore? Aussie tycoon's mega dinosaur park gets green light
Published time: 25 Jul, 2013 12:04
Edited time: 25 Jul, 2013 12:04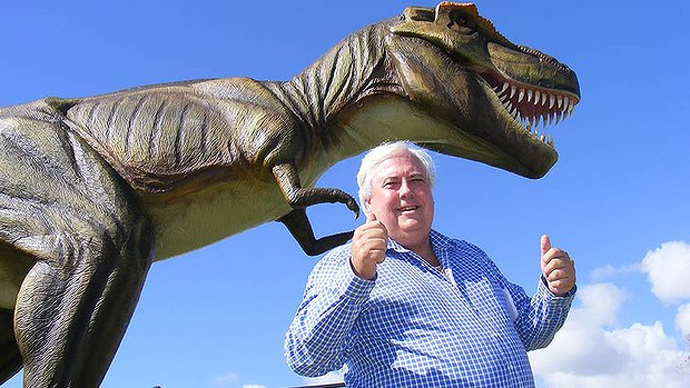 Mining magnate Clive Palmer has approval to construct the world's largest dinosaur park, with up to 160 replicas in his Queensland resort. In the face of criticism that the display will be an eyesore, Palmer argues it's a "low-key" undertaking at best.
The Sunshine Coast Local Council approved the move unanimously on Thursday, giving Palmer the go-ahead despite almost 200 objections. Council said that the new installation would maintain the "economic viability of the resort."

Concerns had previously been voiced by the local council that the addition of the dinosaurs would make a mockery of the resort's championship golf course.

"This is a very small, very small, display at best. This is not a theme park, this is not an attraction, this is a very small, 300-meter walk down a path," Palmer told Australian press. The life-like models will add to the two dinosaurs already on display at Palmer's Coolum resort, one of them an 8-meter-high T-Rex nicknamed Jeff.

"Jeff the T-Rex [is] near the golf course pro shop, [there's] Bones the Skeleton and a giant crocodile is being installed," a spokesman for the park said. "More dinosaurs are coming in the next few weeks."

The plans were approved as long as Palmer adheres to 30 conditions, including noise and environmental restrictions.

The replica dinosaurs, which are currently on order from China, will be able to move their tails and blink their eyes. Addressing noise pollution worries, a park spokesman said all the models will come equipped with volume control.

Palmer is known for his larger-than-life undertakings and recently announced blueprints for a replica of the Titanic. At a press conference in New York in February he claimed that his "Titanic II" would be "unsinkable" and complete the journey that the original vessel could not.

"We will complete the journey. We will sail into New York on the ship they designed," said the tycoon to press.

The Australian businessman originally earned his fortune in the mining industry and is now reportedly worth over $790 million. His personal assets include 100 vintage cars, 150 race horses, five private jets and a large collection of dinosaur fossils. The mining mogul is also running in Australia's national elections this year in an ambitious bid for the prime ministership.