Solution, or racism? Australia approves offshore Pacific asylum camps
Published time: 15 Aug, 2012 13:07
Edited time: 15 Aug, 2012 17:07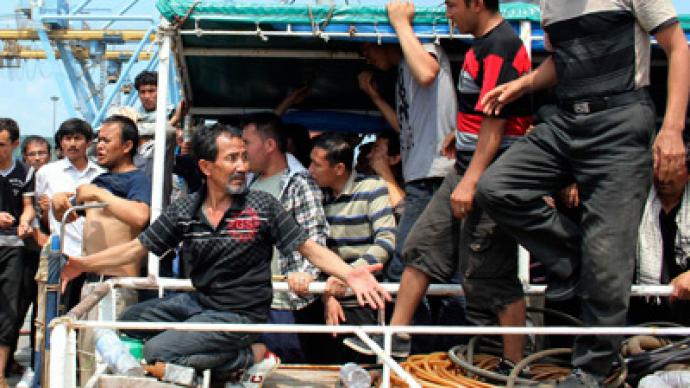 The Australian govt approved a bill to transfer asylum-seekers to offshore processing centers in a bid to curtail undocumented immigration. Critics branded the bill as racist, and a grave violation of the country's human rights obligations.
The legislation, pushed through by MPs in the Australian parliament's lower house, aims to open asylum detention centers on Papua New Guinea and the Pacific island of Nauru.
The measures are geared to curbing human trafficking and promote legal immigration, the government said. According to the new bill, asylum-seekers caught making the perilous journey to Australia by boat will be intercepted and taken to the Pacific island camps for processing.
Over 150 asylum-seekers were estimated to have drowned in boats that have capsized during the crossing to Australia during the month of June.
Opponents of the bill criticized it as a violation of human rights. Australian Labor MP Melissa Park condemned the legislation as "the lower end of what we are capable of as a nation."

"There are strong concerns about the devastating consequences, including severe mental health issues of detention of asylum seekers for indeterminate periods on Nauru and Manus Island," she said in a statement to parliament.
Former Australian Prime Minister Malcom Fraser dismissed the proposal as "racist," saying it would punish the most vulnerable. "There is no time limit on how long people will be in these detention centers, it's indefinite," he said in an interview with the National Times.
The parliamentary vote came in the wake of a report commissioned by current Australian PM Gillard, which researched the recent spike in undocumented immigrants traveling to Australia from Indonesia by boat.
At least three boats were reportedly intercepted by Australian authorities on Tuesday, carrying over 150 people. More than 50 boats carrying over 4,000 asylum-seekers have been detected by officials this year, Reuters reported.
­
Rehashing an old idea
The new legislation resurrects the 'Pacific Solution' initiative first proposed by former PM John Howard's government in 2001. Under the plan, immigrants would be dispatched to detention centers on Pacific islands by the Australian Navy, where they were then held for months under high security.
The program was eventually scrapped in 2008 in the face of considerable criticism from NGOs, who condemned the Australian government for failing to meet its pledges under human rights conventions.
Former PM Fraser hoped that the new legislation would be challenged in the High Court, he said. He condemned the Labor and Liberal parties of "behaving disgracefully and damaging Australia's reputation, not just in our own part of the world, but right around the world."
The bill is expected to pass through the Australian Senate on Thursday with little opposition. PM Gillard said that processing centers on the Pacific islands could potentially be reopened in a month.