Australian Senate seat a possible path to freedom for Assange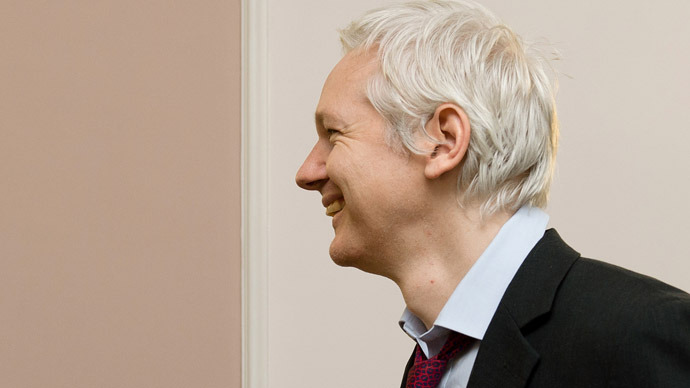 WikiLeaks founder Julian Assange believes winning a seat in the Australian Senate would force the US and others pursuing him to back down, securing his safe passage out of the UK following his 8-month confinement at the Ecuadoran Embassy in London.
The September 14 elections in Australia could provide a platform for a man once described by Vice President Joe Biden as a "high-tech terrorist," by raising the political stakes for those seeking his extradition, Assange explained in a recent interview with Australian website the Conversation.
By winning a seat in Australia's upper house, "the US Department of Justice won't want to spark an international diplomatic row," Assange was quoted as saying.
"It will drop its grand jury espionage investigation. The Cameron government will follow suit," he continued, adding that "the political costs of the current standoff will be higher still" if UK authorities insist on blocking his safe passage out of the country.
In January, Assange submitted his application to the Australian Electoral Commission, paving the way for his 2013 senatorial bid in the state of Victoria. Senate nominations are likely to close on August 22, and the six-year term of office would commence on July 1, 2014.
Australians living abroad can enroll to vote and run for Senate if they have left Australia within the past three years, and intend to return within six years of their date of departure. Assange said the last time he visited Australia was in June 2010.
Assange was dismissive of technical objections to his candidacy, and refuted claims that he was a traitor to his country, or that he had violated section 44 of the Australian constitution by being under the "acknowledgement of allegiance, obedience or adherence to a foreign power."
He is also optimistic that regardless of the immediacy of his release, a rule stipulating that he take up his senate seat within two months would not necessarily cripple his chances: "In that case [of not being released on time], the Senate could vote to evict me. But that would trigger a big political row. Australians probably wouldn't swallow it."
The landslide second re-election of Ecuadorian President Rafael Correa on Sunday plays into his strategy, as it will intensify pressure on Swedish authorities whose case against him is "falling apart," Assange said. "The Swedish government should drop the case. But that requires them to make their own thorough investigation of how and why their system failed."
Following his victory on Sunday, Correa, who characterized the current standoff over Assange as a problem of "neocolonialism" and not asylum, said a diplomatic solution "must be found… as quickly as possible."
Assange has been holed up in the Ecuadoran embassy in London since June, after claiming asylum in a bid to avoid extradition to Sweden, where he is wanted for questioning on sexual assault allegations. British authorities have vowed to detain him if he steps foot outside of the embassy in light of the European Arrest Warrant issued against him.
If handed over to Swedish authorities, Assange fears he will be re-extradited to the United States to be questioned over the WikiLeaks release of thousands of US diplomatic cables.
Assange's political hopes are married to the new WikiLeaks Party, which he plans to register soon with a 10-member national council. He believes that the party would easily clear the hurdle of attracting the minimum of 500 dues-paying members required to be registered in Australia.
When asked what the WikiLeaks Party would entail, he stressed that "maximum inclusiveness" would be key.
"The party will combine a small, centralized leadership with maximum grass roots involvement and support," he said. "By relying on decentralized Wikipedia-style, user-generated structures, it will do without apparatchiks. The party will be incorruptible and ideologically united."