Confirmed: Assange will run for Australian Senate in 2013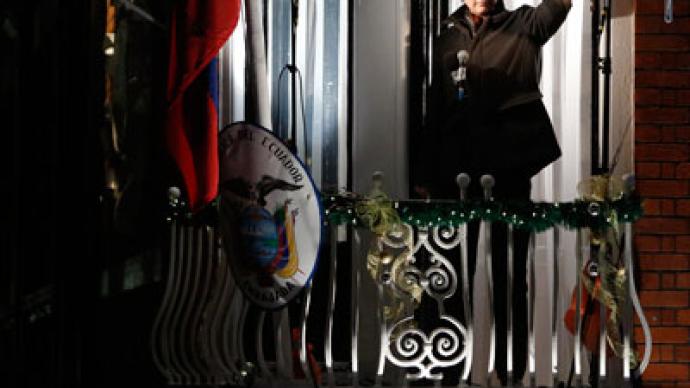 WikiLeaks founder Julian Assange plans to run for a seat in the Australian Senate in 2013, it has been confirmed on Wednesday. It is not yet clear how he will escape from London's Ecuadorean embassy.
WikiLeaks representative Kristinn Hrafnsson confirmed to RT that Julian Assange will run for a seat in the Australian Senate.A native of Australia's Queensland state, Assange said in March last year that he wanted to "bring liberty back to the center of Australian politics." His Senate candidacy will help him defend free speech and the "right of citizens… to live their lives free from state interference," he explained.After taking political asylum in Ecuador's embassy in London in June, Assange expressed interest in the senate seat in December, when he said that he would run as a candidate as part of a yet-to-be-formed WikiLeaks party. He also called on to his supporters to stand with him.Assange is expected to run on a WikiLeaks party ticket; If he cannot physically make it to the Senate, his seat will be taken by his running mate, the WikiLeaks wrote on Twitter on Wednesday.
Assange to run on WikiLeaks party ticket. If unable to take place in Senate, the place will be filled by running mate. aph.gov.au/About_Parliame…

— WikiLeaks (@wikileaks) January 30, 2013
Assange's mother Christine has confirmed her son's senate candidacy: "He will be awesome," she told AAP News. She added that currently, Australians can only choose between the two major parties in the country's legislature, which she called "US lackey party number one and US lackey party number two.""It will be great to 'Assange' the senate for some Aussie oversight," Christine Assange said.Australian Prime Minister Julia Gillard announced earlier in the day that the country's national elections will be held on September 14.Assange may not be able to be physically present at the Australian senate as he remains holed up in London's Ecuadorean embassy in order to avoid extradition to Sweden. Stockholm has called for Assange to be questioned in the presence of those who made the sex crime allegations. This has raised concerns from Assange's lawyers that the WikiLeaks found could then be extradited again to the US upon arriving in Sweden.If extradited to the US, Assange will likely face trial for the release of thousands of classified US diplomatic cables. It was revealed in September last year that US authorities had declared Assange and WikiLeaks to be enemies of the state.
You can share this story on social media: