Pirate Party Australia becomes official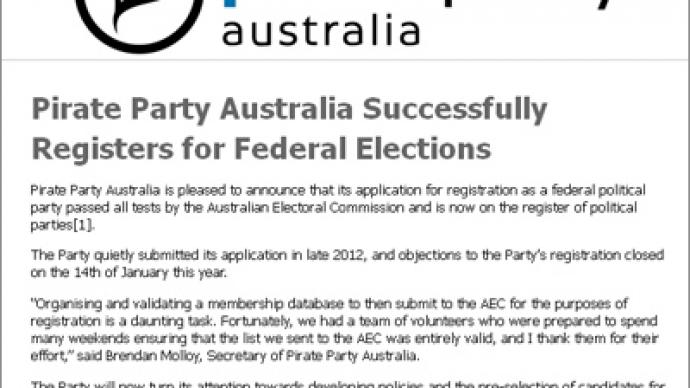 Australia's Pirate Party has become an official political organization after its registration was approved by the Australian Electoral Commission (AEC), the party announced.
The Commission Tweeted on Monday that the Party was officially registered on January 17. After conducting a series of tests, the Commission "found no reason to refuse the Party's application", wrote the AEC in a statement published on its web site. The Pirate Party submitted its application in October 2012 and had received only one objection by the January 14 deadline, which was not considered sufficient grounds for a refusal, continued the AEC.The Party, which describes itself as being "based around the core tenets of freedom of information and culture, civil and digital liberties, and governmental transparency," plans to focus on developing policies and selecting candidates for this year's federal elections, said the party's President David W. Campbell. "More than ever before there is a necessity in Australia for a Party that holds empowerment, participation, free culture and openness as its central tenets. A Party that understands the modern emerging information society and the imperative for political transparency," said Pirate Party founder Rodney Serkowsky. 
@piratepartyau > Congratulations. Great news. One thing – PLEASE.. listen to the people, not political listening . A genuine ear. On board

— Anon_nb (@CrackOpn) January 21, 2013
"As the Prime Minister condemns whistleblowers and publishers without trial, the spectre of data retention looms, policy is laundered and Australia's interests are sidelined by faceless diplomats and bureaucrats… there has never been more reason to put pirates in parliament," concluded Serkowsky.Founded in 2009 and based on Sweden's Pirate Party, it hopes to mobilize the growing number of Australian voters opposed the introduction of an Internet filter, the Anti-Counterfeiting Trade Agreement (ACTA) and recent attempts to increase regulation of the Internet by the UN International Telecommunication Union (ITU) – all of which have been actively endorsed by the Australian Government. In a similarly controversial initiative, Wikileaks founder Julian Assange recently announced his intention to run for a seat in the Australian Senate in the upcoming elections, as well as the formation of a Wikileaks Party. Despite being confined to the Ecuadorean Embassy in London, plans for the registration of the party were "significantly advanced", said Assange. He is able to register as an overseas candidate in the states of New South Wales and Victoria. Regulations would allow him to appoint a proxy to take up his seat, if he is elected but unable to return.
@piratepartyau @nathaneverson Aye – good luck to ye at the polls!

— AJP (@Justice4animals) January 21, 2013
You can share this story on social media: