#Multiviral: Wikileaks' Assange joins forces with Calle 13 for new song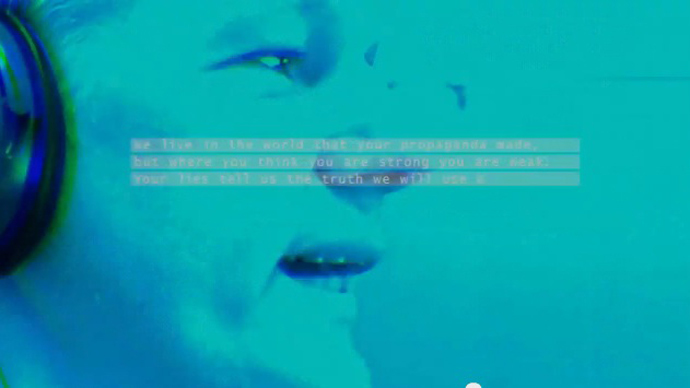 Puerto Rican group, Calle 13, released new track, 'Multi-Viral', on Wednesday with Wikileaks' Julian Assange lending his vocals to the song, denouncing "propaganda" and "lies". The lyrics were sourced from the social concerns of twitter followers.
"We're going viral," the group announced on their Facebook page on Wednesday. 

The song's release was accompanied by a live Twitter Q and A with Julian Assange (activist and founder of whistleblower site Wikileaks) and lead singer, Puerto Rican 'Residente' in both English and Spanish. They discussed the song, which slams the evils of media manipulation and 'bad journalism', while also taking on pharmaceutical companies, the military and corporate giants.

"People have to be aware of that…that they know what they're reading," 'Residente' (35 year old René Pérez Joglar) said.  "Maybe they can die for an idea that is not true, maybe they would go to war."

"We've both been the subject of false media reporting," said Assange and concluded jokingly: "I just try smashing them on the head every time, but then they don't like me very much."

The lyrics to the song were sourced through Twitter-follower responses to pressing social justice issues, of which they received thousands when they made the first official request. "Your lies tell us the truth we will use against you,"  Assange can be heard saying.

"We're going to manipulate the idea and construct a song to talk against the bad media but using their voices," said lead singer Residente, by way explanation for the project on an earlier trailer.

Assange's voice cuts in after the main body of the song, stating "we live in the world that your propaganda made. Where you think you are strong, you are weak…your secrecy shows us where we will strike. Your weapons reveal your fears for all to see."

The track also features the guitar skills of Rage Against the Machine's, Tom Morello, and Palestinian singer, Kamilya Jubran.

Assange is still based at the Ecuadorian embassy in London. Pérez visited him in London earlier this year to work on the song.  Assange has been in the Ecuadorian embassy for over a year to circumvent an extradition order to Sweden, where he stands accused of sexual offences, which he has denied. Assange fears extradition to the US from Sweden to face investigation over Wikileaks.

The move follows Assange's recent stunt singing in an Australian music video from under a mullet in a clip entitled 'Game of Polls', which he released to raise the profile of his Wikileaks party with Australian voters as he strove to gain a Senate seat.