Assange cash backers ordered to pay £93K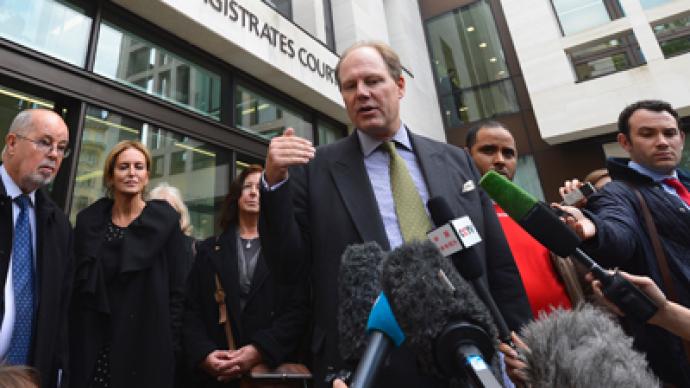 Nine people who put up bail sureties for WikiLeaks founder Julian Assange have been ordered by a judge to pay thousands more pounds each, totaling 93,500 pounds, by November 6.
High-profile supporters of the whistleblower, including socialite Jemima Khan, journalist John Pilger, and film director Ken Loach, have already lost 200,000 pounds (over $320,000) they donated for Assange's bail. They offered the sureties before Assange took refuge in the Ecuadorian embassy in London to avoid extradition to Sweden.As the WikiLeaks founder made a desperate dash from his house arrest to the Ecuadorian embassy on June19, thus violating a condition to report to a police station daily, a court ruled this money should be forfeited.
List of Assange's guarantors:1. Professor Tricia David: £20,000 2. Lady Caroline Evans, personal friend: £20,000 3. Joseph Farrell, WikiLeaks assistant: £5,000 4. Sarah Harrison, WikiLeaks assistant: £5,000 5. Philip Knightly, former Sunday Times journalist: £20,000 6. Sarah Saunders, catering manager: £20,000 7. Captain Vaughan Smith, Frontline Club founder: £20,000 8. Sir John Sulston, Nobel prize-winning biologist: £20,000 9. Tracy Worcester, model and actress: £10,000
In his ruling, Chief Magistrate Howard Riddle – under the 1980 Magistrates Court Act – ordered Vaughan Smith to pay 12,000 pounds. Three others – Caroline Evans, Phillip Knightley and John Sulston – should pay 15,000 pounds each. Five more backers – Tricia David, Joseph Farrell, Sarah Harrison, Sarah Saunders and Tracy Worcester – have been obliged to pay amounts of between 3,500 and 12,000 pounds.The judge said he accepted that the nine had all acted in good faith and "acted on their beliefs and principles throughout" and "against self-interest"."I accept that they followed the proceedings and made necessary arrangements to remain in contact with him," Riddle said. However, he noted that they failed in their basic duty to ensure his surrender. They must have understood the risk and the concerns of the courts.In September, a court gave the nine guarantors a month to prove why they should not pay 140,000 pounds (some US$225,000) in sureties. The court told them to convince Assange to surrender to police to get the money back."Both this court and the High Court assessed that there were substantial grounds to believe the defendant would abscond, and that the risk could only be met by stringent conditions including the sureties," Riddle explained. The supporters have argued that they should not be penalized for Assange's asylum bid.Last week on Wednesday, Vaughan Smith, who not only gave 20,000 pounds to guarantee the bail, but also provided his Norfolk country mansion as a bail address for Assange throughout 2011, told the journalists "he did not regret anything."He added that all those who had offered sureties were "convinced that they have done and are doing the right thing."Sweden wants Assange for interrogation on sex related accusations which the WikiLeaks co-founder denies. Losing the final stage of his appeal in the Supreme Court in June this year, Assange fled to the Ecuadorian embassy in London, where he was granted political asylum in August. Ecuador says it might transfer Assange to its embassy in Sweden where prosecutors could interrogate him. But first Stockholm should guarantee Assange will not be transferred to the US once he appears there, Ecuadorian President Rafael Correa reiterated last week.