Price of freedom: Assange sureties to learn in 'a few days' whether they lose $225,000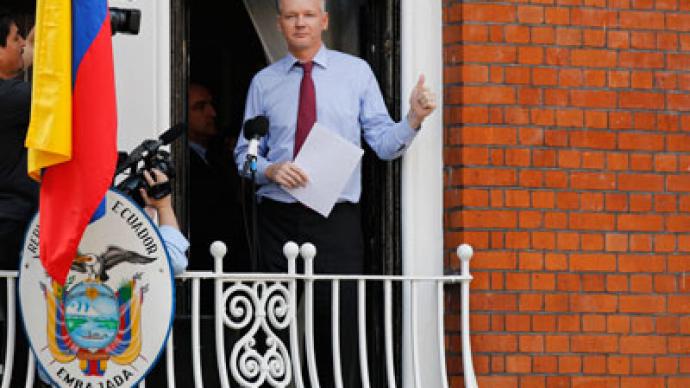 A decision on Julian Assange's bailout is expected in several days, judges said Wednesday. In September, the whistleblower's sureties were given a month to persuade Assange to hand himself over to the police if they want their £140,000 back.
High-profile supporters of the WikiLeaks front man, including socialite Jemima Khan, journalist John Pilger, and film director Ken Loach, have already lost 200,000 pounds (over $320,000) they gave to bail out Assange. After the whistleblower made a desperate dash from under his house arrest to the Ecuadorian embassy in June, a court ruled this money should be forfeited.Wednesday, Westminster Magistrates' Court in London was set to rule whether a group of nine other supporters would lose a further £140,000 pounds (some $225,000) offered as "surety" for Assange's bail. But emerging from the session, the magistrate said a ruling will be delivered in a few days after other evidence is considered.
List of Assange's guarantors:1. Professor Tricia David: £20,000 2. Lady Caroline Evans, personal friend: £20,000 3. Joseph Farrell, WikiLeaks assistant: £5,000 4. Sarah Harrison, WikiLeaks assistant: £5,000 5. Philip Knightly, former Sunday Times journalist: £20,000 6. Sarah Saunders, catering manager: £20,000 7. Captain Vaughan Smith, Frontline Club founder: £20,000 8. Sir John Sulston, Nobel prize-winning biologist: £20,000 9. Tracy Worcester, model and actress: £10,000
"I don't regret it," Vaughan Smith told journalists outside the courtroom when asked about putting money up. Smith, the former British army captain and the Frontline Club founder, not only gave 20,000 pounds to guarantee the bail out, but also provided his Norfolk country mansion as a bail address for Assange throughout 2011. Sweden wants Assange for interrogation on sex related accusations which the WikiLeaks co-founder denies. Losing the final stage of his appeal in the Supreme Court in June this year, Assange fled to the Ecuadorian embassy in London, requesting political asylum. The move breached his bail conditions losing his supporters £200,000 (over $320,000).In September, a court gave the nine guarantors a month to prove why they should not pay 140,000 pounds (some $225,000) in sureties. The court told them to convince Assange to surrender to police to get the money back. But the group, including Nobel prize-winning biologist Sir John Sulston and actress Marchioness Tracy Worcester, told judges Wednesday that such a move would render them "mercenary and contemptible individuals of great weakness of character." "We never envisaged when we became sureties that the matter would become a diplomatic argument and it is clear that this needs to be resolved at diplomatic level," said Smith on behalf of the sureties in the short hearing in front of the chief magistrate, Howard Riddle. The group pleaded to keep the money even though they could not influence Assange's decision to surrender to police.Ironically, on the eve of Wednesdays hearing it was revealed that the police bill for staking out of the Ecuadorian embassy, where Assange has taken refuge, has hit over one million pounds – a sum not quite compatible with the bail expenses. Since being ordered to arrest Assange if he "puts one toe" outside, the Metropolitan Police have had at least four officers monitoring the building on a daily basis. A £250,000 mobile command station has also been set up on the doorstep of the building, while specialist police units and undercover squads have been brought in to join the open-ended stake out.At the same time, it appears the stalemate around the whistleblower's new imprisonment is far from near a resolution. Last week, Foreign Secretary William Hague said there was still "no sign of any breakthrough" after meeting his Ecuadorian counterpart at the sidelines of the UN General Assembly.Diplomacy between the two countries plummeted after the UK, learning that Ecuador granted Assange political asylum, was rumored to threaten the country's mission with a temporary stripping of its diplomatic status and even raiding the property. Later the rumors were denied, but room for compromise has collapsed.Ecuador says it might transfer Assange to its embassy in Sweden where prosecutors could interrogate him. But first Stockholm should guarantee Assange will not be transferred to the US once he appears there, Ecuadorian President Rafael Correa reiterated Tuesday. The whistleblower fears Sweden is capable of re-extradition, while the US views him as the "enemy of state" over his WikiLeaks activities and might sentence him to the death penalty for espionage and terrorism charges.
You can share this story on social media: