Manning trial set for February 2013, Assange expects to spend year in embassy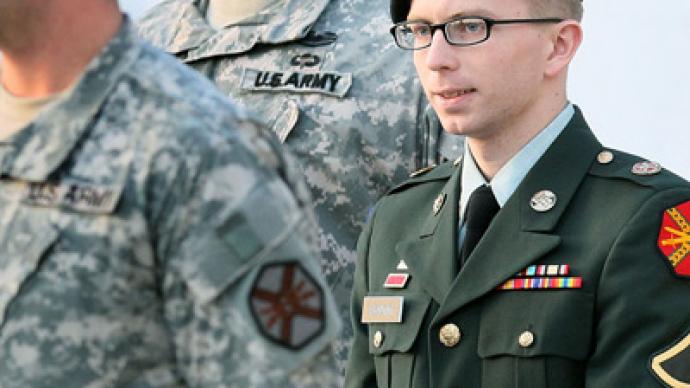 On Thursday, a US Military judge scheduled a February 2013 trial for suspected WikiLeaks informant Bradley Manning, following several delays. Manning was arrested in May 2010 and charged with several crimes, including 'aiding the enemy.'
Judge Denise Lind set aside six weeks for Manning's trial, which will take place from February 4th to March 15th. Due to the multiple postponements, Manning has already been held in pre-trial detention for much longer than the 120-day-maximum typically allowed between the filing of charges and the start of court proceedings.
Manning was arrested in May 2010 after thousands of classified cables and documents were published by WikiLeaks in the world's largest unauthorized release of secret information. Manning was arraigned on several charges, including: Communicating national defense information to an unauthorized source, theft of public property or records, and aiding the enemy. The charge of "aiding the enemy" is the most serious, and could result in the death penalty.
The legal teams for Manning and WikiLeaks founder Julian Assange have repeatedly argued that US prosecutors are pressuring Manning with draconian charges in an attempt to get him to accept a plea deal that would implicate Assange in a future criminal case.
"Let's not forget that Bradley Manning is facing 150 years plus life in prison, there is a potential death penalty for the aiding the enemy charge that was introduced just six months before the pretrial hearing," Assange attorney Jennifer Robinson said in February 2012, paraphrasing the closing arguments of Manning attorney David Coombs at a pre-trial hearing in December 2011.

"That overcharging is designed, in Mr. Coombs' opinion in his submissions before the court, to put pressure on Bradley Manning to implicate Assange," she said.
Assange has repeatedly accused the US of conducting a "witch hunt" against Wikileaks, and of opening a secret Grand Jury case against him. A Grand Jury is a process in the US that determines whether or not prosecutors are able to bring charges against an individual in a criminal court. In it, the jury is given evidence by US prosecutors without the oversight of a Judge.

While Grand Juries are kept secret by strict laws, friend of Bradley Manning and programmer David House confirmed that he was called by a Grand Jury in June convened to investigate the possibility of indictments against activists involved in WikiLeaks. According to his transcript (which he kept illegally), House invoked the Fifth Amendment 25 times in 50 minutes.
Assange in embassy, ready to wait
Also on Thursday, Julian Assange told Ecuador's Gama television network that he expected his diplomatic impasse with the UK to be resolved in six months to a year. If Manning's case starts six months from now in February, and is concluded without Manning taking a plea, it would be significantly more difficult for US prosecutors to induce Manning to accept a plea bargain and testify against Assange in return for a lighter sentence. US 'double jeopardy' laws would prevent prosecutors from bringing the same charges against Manning twice once his trial had concluded.Ecuadorian Foreign Minister Ricardo Patino said on Wednesday that Ecuador was hoping for a diplomatic resolution to the situation in which the British government would provide Assange with a written guarantee that he would not be extradited from Sweden to another country, specifically the US, Reuters reported.Assange also expressed hopes that the Swedish charges will eventually be dropped: "The Swedish government could drop the case. I think this is the most likely scenario. Maybe after a thorough investigation of what happened they could drop the case."
You can share this story on social media: