Preparation fire: Iraqi army kills 50 militants in Fallujah artillery, air strikes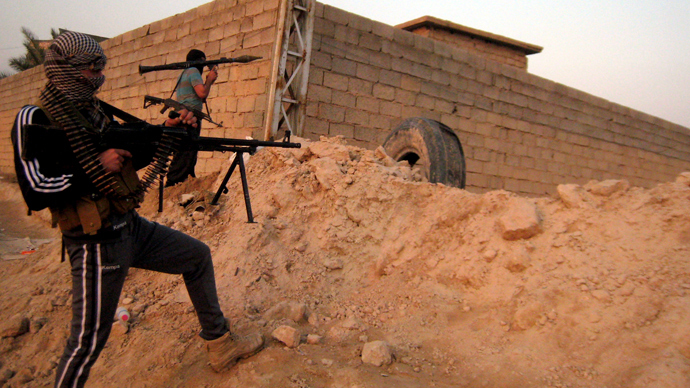 Iraqi government forces have killed 50 militants in artillery and airstrikes as they continue their preparations to storm the anti-government insurgents' stronghold in the Anbar province city of Fallujah, west of Baghdad.
The Iraqi defense ministry has announced that 50 members of the Islamic State of Iraq and the Levant (ISIL) were killed in Saturday's and Sunday's aerial bombardment and artillery assaults as government forces and local militias targeted ISIL fighters in the cities of Ramadi and Fallujah.
The ministry also claimed that it has neutralized 135 explosive devices and destroyed 7 vehicles. Large amounts of weaponry were also seized.

Soldiers and police battled alongside tribesmen in southern Ramadi, AFP reported but were making slow progress. Defense Minister Saadun al Dulaimi visited the troops to oversee the assault.

The Iraqi government warned on Saturday that it was preparing a full scale assault on the city, but to date has mostly resorted to heavy bombardment. The army units deployed around the city stayed out of Fallujah to avoid being dragged into a protracted gunfight.
ISIL has claimed in the past to be linked to Al-Qaeda. Yet Al-Qaeda's central leadership allegedly announced Monday the organization has "no connection" with ISIL, adding that the group "is not a branch of the Al-Qaeda organization," and that Al-Qaeda "is not responsible for its actions." The statement - which has not yet been independently verified, according to AP, though it was posted on websites "commonly used" by Al-Qaeda - was a response to infighting among Islamic groups in Syria.
"We distance ourselves from the sedition taking place among the mujahedeen factions [in Syria] and of the forbidden blood shed by any faction," the statement said, according to AP.
Meanwhile on Sunday, multiple deadly attacks in Baghdad and cities in its vicinity killed 21 people, security and medical officials said.

At least eight were killed in an attack on Sahwa fighters and anti-Al-Qaeda Sunni militiamen in the town of Baiji. What started off as a gun battle on their base was followed by a suicide car bomb. At least 17 people were injured. Another 13 people have been killed in attacks in Baghdad, Balad, Taji, Mosul and Kirkuk.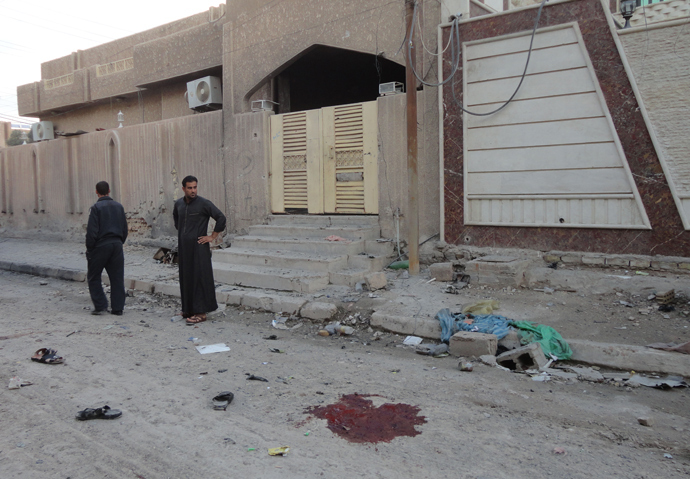 Violence in Anbar province erupted last year when local Sunni tribes revolted, aroused by a government raid to ensure the arrest of Sunni politicians and protesters at a suspected "al-Qaeda headquarters" in Ramadi. Al-Qaeda-linked fighters soon took over Fallujah and parts of Ramadi, taking the lead in the uprising against the Shiite-led government.

The lengthy stand-off has already prompted more than 140,000 people to flee their homes, and has resulted in hundreds of deaths – including civilians.
Over the last month, the prime minister, Nuri al-Maliki, has been reaching out to the local tribes to expel militants from the area, while simultaneously appealing for the international community to support the country with arms to battle the Al-Qaeda threat. US pledged to accelerate it military supplies as soon as possible.

Before the airstrikes and mortar attacks on Sunday, the government had warned those inside Fallujah to lay down their arms and surrender, threatening to treat anyone who refuses as an ISIL militant "whether he is or not," according to Iraqi military official cited by Reuters.

Meanwhile Iraq's renegade vice president has warned that following Iraqi government's assault on Anbar province, violence could eventually spread to other parts of the country as Sunni opposition to the regime grows.

"Al-Maliki is targeting Arab Sunnis in different provinces, with the use of army forces, or handing them death sentences in a way that has never been seen before in Iraq's modern history, and therefore it's the right of these individuals to defend themselves in every way possible," the fugitive VP Tarek Al-Hashemi, a Sunni sentenced to death in 2012, told MENAFN Arab News agency.
You can share this story on social media: