'Arctic 30' activists to be moved to St Pete – Greenpeace's lawyer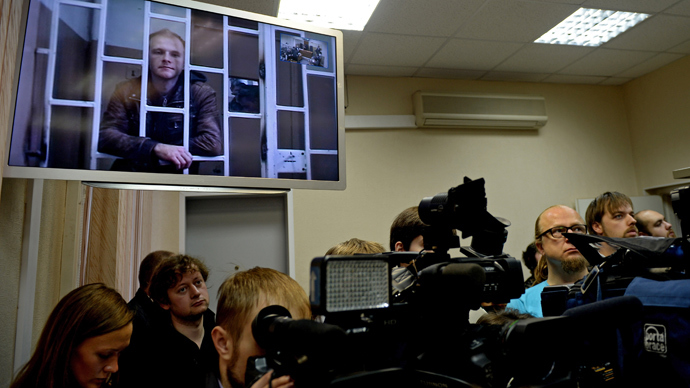 Crewmembers of Greenpeace's Arctic Sunrise ship, arrested in September during an oil rig protest in the Barents Sea, will be transferred from a pre-trial detention center in Russia's Murmansk to St. Petersburg, Greenpeace says.
The lawyer for Greenpeace Russia, Khalimat Tekeyeva, told the Interfax agency that they are not aware of the reasons for the decision to relocate the arrested activists.

Russian law enforcers have so far not commented on the matter. 
Greenpeace International executive director, Kumi Naidoo, said "the detainees shouldn't be in jail at all," but should rather "be free to join their families and restart their lives".
"St Petersburg has some daylight in the winter months, unlike Murmansk," he noted, adding that it will also be easier for consular officials and families to visit the arrested crewmembers.
All the 30 crewmembers of the Arctic Sea were arrested on September 18, after they staged a protest action at Gazprom's Prirazlomnaya oil platform. All of them – from 18 different countries – have been placed in pre-trial detention in the city of Murmansk, northern Russia, till November 24.

Initially, the activists were held on piracy charges, which meant they could face up to 15 years in jail. However, last week Russian investigators softened the charges to hooliganism – a crime that carries a maximum penalty of 7 years.

The arrest of the activists has sparked a wave of international criticism, with protests taking place worldwide.
Earlier in October, the Netherlands filed a lawsuit against Russia in an international maritime court in a bid to win the release of the Dutch-registered Greenpeace vessel Arctic Sunrise and its 30 crew members. 
In response, Russia's Foreign Ministry criticized Dutch authorities for not intervening in the situation earlier, as "over the last year and a half the Russian side made repeated attempts" to draw the attention of the Dutch government to "the vessel's illegal activities."
The Netherlands also asked the International Tribunal for the Law of the Sea to order Russia to free all the Greenpeace crew members. However, Moscow dismissed the request sent to the Hamburg-based tribunal and refused to take part in the proceedings. Russia did underline, though, that it remains "open to the settlement" of the situation surrounding the case.
The court hearings are scheduled for November 6 and a verdict is expected to be delivered on November 21.
On Thursday, it was reported that Moscow and Amsterdam were holding informal talks to resolve the situation. The information was confirmed to ITAR-TASS news agency by Ward Bezemer, spokesman for Dutch Foreign Minister Frans Timmermans. He did not disclose the details of the negotiations, but said that there was neither secret nor sensation regarding the talks.
You can share this story on social media: