Netherlands threatens to go to intl tribunal over Greenpeace arrests
Published time: 18 Oct, 2013 21:19
Edited time: 19 Oct, 2013 08:35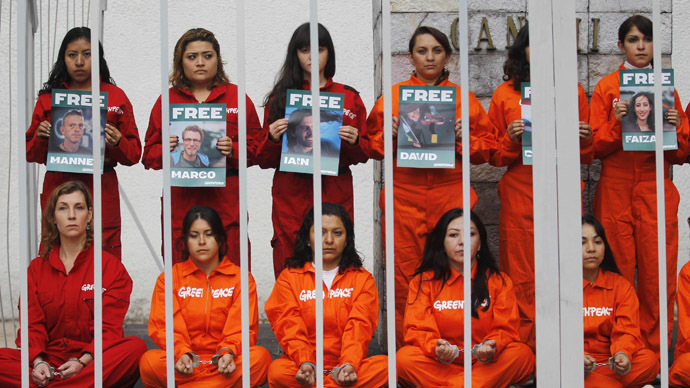 The Netherlands is prepared to address the International Tribunal for the Law of the Sea if the situation surrounding 30 Greenpeace activists arrested in Russia isn't resolved by Monday, the country's PM, Mark Rutte, declared.
He also indicated that work is underway to find a diplomatic solution to the matter.

Meanwhile, Greenpeace Russia staged a protest called "Release the activists, save the Arctic" in Moscow. The demonstration was speaking out against the detention of the 30 activists, all of whom were arrested in September.

Thirty protesters were dressed in orange uniforms, and two others were wearing polar bear costumes. However, the rally was interrupted when a counter-protester dressed as a polar bear appeared holding a banner which read, "The Arctic needs ecologists, not eco-terrorists." He was quickly detained by police.

The protesters were holding banners enumerating law violations that were reportedly committed by authorities who arrested the activists.

"The reason we're here – 30 days of madness and breach of justice towards the people who expressed their opinion, peaceful and unarmed. We don't have the opportunity to get to the central channels. We don't have any other option to tell the government what we want to say – except for staging rallies," the organizers told reporters.

Similar rallies took place in Germany, the UK, Canada, and Mexico.


30 Days of Injustice. Outside Russian Consulate in Toronto. #FreeTheArctic30@NatalieeCainepic.twitter.com/iKpgbMK78B

— Arctic Sunrise (@gp_sunrise) October 18, 2013
Russian authorities detained 30 people aboard the Arctic Sunrise Greenpeace vessel after it approached a Gazprom oil rig last month, in a protest against Arctic drilling. A court in Murmansk - where the ship was transported - charged the activists with piracy, which can carry a punishment of up to 15 years in prison.
The Murmansk Region Court in Russia on Friday rejected an appeal filed by UK Greenpeace activist Alexandra Harris. Appeals to release Greenpeace activists Anne Mie Roer Jensen from Denmark and Canadian Alexandre Paul were also denied.

Earlier, the court rejected similar appeals filed by activists from Russia, the UK, New Zealand, the US, Argentina, and Australia.

Russian officials say Greenpeace's Arctic Sunrise ship - which is registered in the Netherlands - has repeatedly violated Russian laws since August 2012, sources told RT.

The Russian Transport Ministry contacted the Dutch government regarding the vessel's provocative actions in the Arctic last December, but never received a response.

Meanwhile, in Murmansk, CCTV footage released by Greenpeace showed six men in balaclavas reportedly breaking into the organization's office.

The group said a mock cage - due to be used in a stunt as part of a campaign on Friday - was stolen in the break-in.

View the break-in footage here.