US-supported Arab Spring may backfire on ally Israel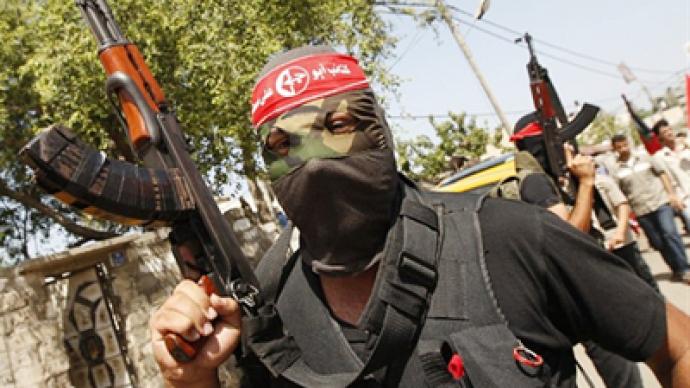 With America's push for democracy in the Arab states, groups with radical Islamic links are lining up to fill the power vacuums which are emerging. Amid the current instability, the ramifications for America's closest Middle East ally could be huge.
Israel is keeping quiet during the current chaos in the Middle East and North Africa, while Hamas gunmen are upping the stakes just that little bit higher."All these years the Egyptian regime, like the Zionist enemy, tried to stop us fighters in Gaza," says a Hamas fighter. "But we always got the weapons we needed to fight the Zionist enemy."And now they are getting more than they could ever hope for. With former Egyptian president Hosni Mubarak's men gone, the borders could not be easier to get through."Today, the Bedouins in the Sinai desert, who were those who smuggled the arms to Gaza, have much more freedom to do whatever they like," says Dr. Mordechai Kedar of Bar Ilan University.And what they like is smuggling weapons into Gaza. The result is two attacks in three months on a natural gas pipeline that supplies a quarter of Israel's electricity.Which is why, as the US claims, it is bringing a new tomorrow to Egypt, but most Israelis would rather remember yesteryear.The eagerness of the United States to topple former Egyptian president Hosni Mubarak and bring about regime change has ironically most harmed its closest ally in the region – Israel.The US says it wants to establish democracy in the Middle East but instead of democracy, it is very possible that radical Islamists could come to power. The US strongly supported the opposition in Libya despite Al-Qaeda connections among its ranks.Now it is apparently galvanizing support against Syrian President Bashar Assad, with the WikiLeaks website claiming that Washington has been funding some anti-government factions."Everybody is afraid that if [Bashar Assad] goes away the Muslim brotherhood can take Syria, so instead of an infidel regime in Syria we are going to have an Islamist regime," says Dr. Mordechai Kedar.And that would mean swapping one dictator for what could be worse. If and when radicals come to power they are likely to direct their arms at Israel."People will be very conscious of the fact that Syria is not Libya and the fact that if you do decide to intervene in Syria you will have knock-on effects across the region in Iraq, Lebanon, Israel, Palestine," says James Denselow, a writer on Middle East politics and security issues.Whatever new threats Israel might face from an even more hostile Arab world emerging from the present instability, some experts believe the security of the Jewish State is not under any grave threat."Israel has never been an unsafe place. One of the greatest lies, the mother and father of all lies about Israel is that it has been in danger of annihilation," says Alan Hart, a British writer and journalist with a special focus on the Arab-Israeli conflict. "Israel's existence has never ever been in danger from any combination of Arab military force, and that's unlikely to change in any foreseeable future."But the fighters on the ground are not giving up hope. And their ominous warning is that there is worse to come."The time of defeat and retreat is over," says Abu, a Hamas fighter. "Now it's time for the Israeli people and the Israeli enemy to pay."On the surface Israel is keeping quiet, but behind closed doors there will be plenty of disquiet about how much America's desire to make new friends in the Arab world is fuelling serious instability.
Meanwhile, the editor of the New York-based Independent newspaper, Arun Gupta, says the real reason Israel ought to be nervous is because it has been allied with autocratic regimes and despots.
You can share this story on social media: