WikiLeaks: US secretly backed Syrian opposition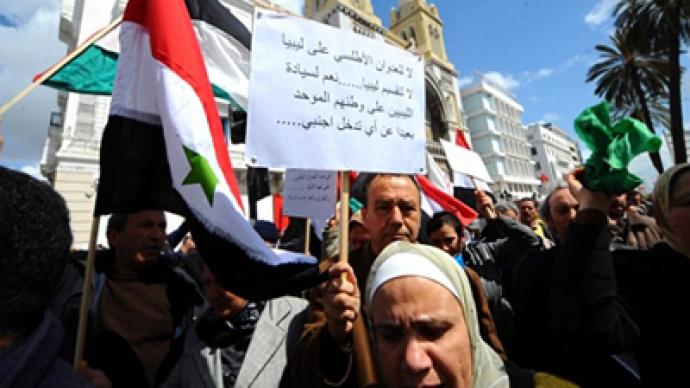 According to classified cables released by WikiLeaks, the US State Department secretly finances Syrian opposition groups, including a satellite TV channel which broadcasts anti-government programming across the country.
The satellite channel, Barada TV, is based in London, but financed by Washington. Launched in April 2009, human rights groups have said increased funding and coverage has been seen in light of ongoing anti-government protests aimed at unseating Syrian leader Bashar al-Assad.Barada TV is closely tied to a London based operation known as the Movement for Justice and Development – a group of Syrian exiles in the UK. According to the leaked cables, the group has received at least $6 million from the State Department. Financial backing for Syrian opposition groups began under former US President George W. Bush, but continued under Obama. Bush broke times with Syria during his presidency, while Obama appointed a new ambassador for the first time in six years, yet he continued to support opposition groups. Cable communications indicate diplomatic staffers learned in 2009 that Syrian Intelligence had begun investigating US involvement n opposition groups. Some expressed concern, arguing the US should reconsider its financial backing of opposition in order to not hinder Obama's diplomatic goals in the region. "[Syrian authorities] would undoubtedly view any US funds going to illegal political groups as tantamount to supporting regime change," indicated one leaked cable. "A reassessment of current US-sponsored programming that supports anti-government factions, both inside and outside Syria, may prove productive."According to the cables, funds were allocated for the programs through September 2010. It is unclear from the leak whether or not the Obama administration has continued to fund opposition groups. The State Department has not commented on the authenticity of the cables or issues any statements regarding the backing of opposition groups or the funding of Barada TV. "We back a set of principles," Tamara Wittes, deputy assistant secretary for democracy and human rights in the Bureau of Near Eastern Affairs said. "There are a lot of organizations in Syria and other countries that are seeking changes from their government. That's an agenda that we believe in and we're going to support."She noted however the US government does not officially endorse foreign political parties. The Barada TV operation in London did not acknowledge receiving any US government funds, arguing its funds come from independent sources.
You can share this story on social media: