Anonymous takes over Twitter, Flickr of N. Korean news agency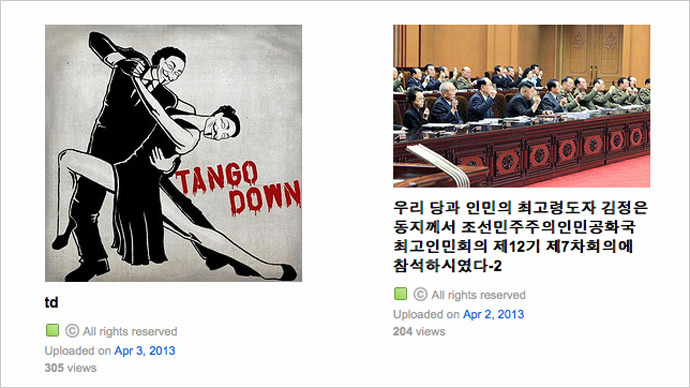 The Twitter and Flickr accounts of North Korean central news agencies have been hacked and taken over by Anonymous Korea group. A number of official websites have also been hacked - and defaced - again.
That's the latest of the Anonymous attacks on the communist state since North Korea announced it was in a 'war state' with its southern neighbour.

North Korean government-associated 'Uriminzokkiri' account has been posting messages that clearly prove the hack was in place.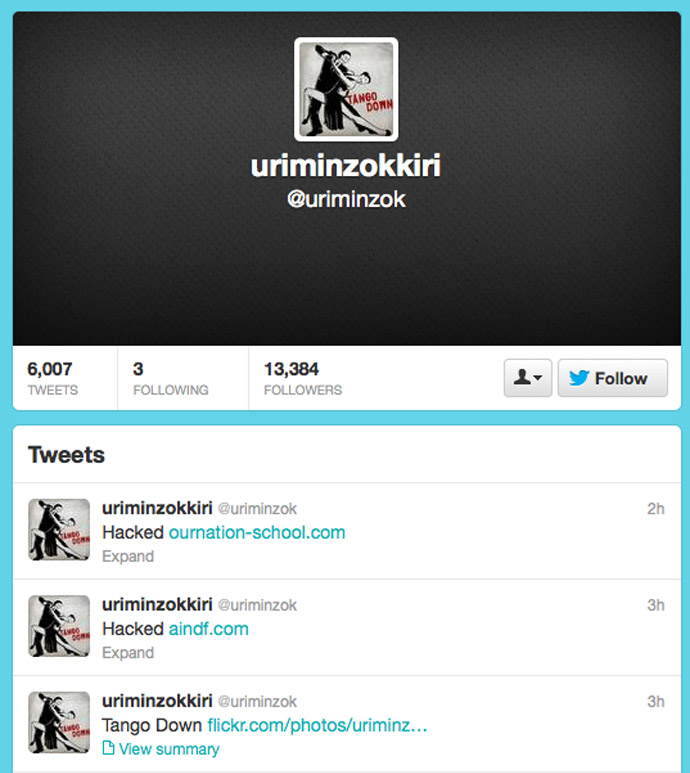 Anonymous say they have hacked Uriminzokkiri.com, a website connected to North Korea's central news agency. The site has been down for hours, and it is not clear whether it was broken into or just crashed by DDoS attacks. 
Flickr began showing a number of caricatures mocking the regime.

Books and music store Ryomyong.com (currently down) and Aindf.com were defaced.
The hackers claim they have members inside North Korea who are helping with the online attacks.
"We have a few guys on the ground who managed to bring the real internet into the country using a chain of long distance WiFi repeaters with proprietary frequencies, so they're not jammed [yet]," Anonymous posted on Pastebin.com. 
"We also have access to some N.K. phone landlines which are connected to Kwangmyong through dial-ups," they claim.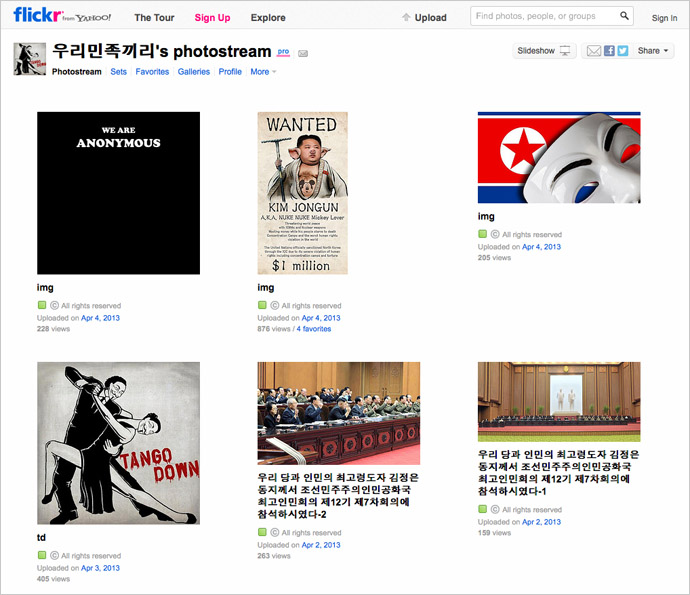 The ongoing Anonymous' operation against North Korea is labelled #opNorthKorea in social media. Just recently they claimed North Korean infiltration and getting access to as many as 15,000 passwords.
The very first attack was just a few hours after North Korea announced it was on war terms with the South.
The group threatens two more similar campaigns in the near future.
Next Schedule : #OpFreeKorea: 04/19#OpKoreanWar: 06/25We are Anonymous. Expect us! #어나니머스#Anonymous

— Anonymous_Korea (@Anonsj) March 31, 2013
You can share this story on social media: