World lights candles for WWII veterans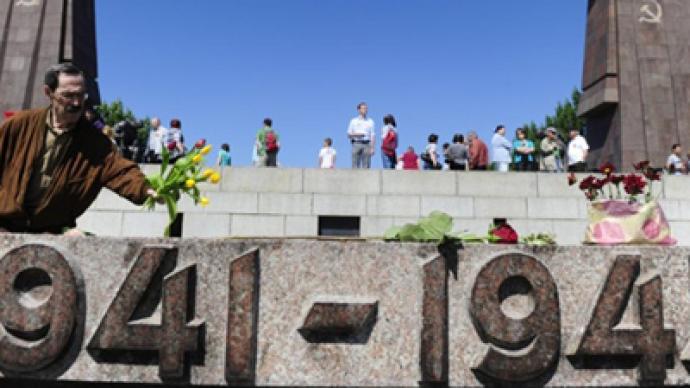 Throughout the world May 8 is celebrated as Victory in Europe Day, or VE Day – triumphal festivities will take place in Western Europe and the USA a day before the victory over Nazi Germany is commemorated in Moscow.
The act of Germany's unconditional surrender was signed in Karlshorst (a quiet residential district on the outskirts of Berlin) in the canteen of a military engineering school – one of the few buildings that had miraculously stayed intact. This significant event happened on May 8, at 10.43pm central European time; it was already early morning of May 9 in Moscow.European capitals, among them Paris, London, Berlin and others, will see solemn ceremonies on Sunday. It has become a tradition in Berlin to lay wreaths to the Soviet liberator monument in Treptower Park on May 8, which is called the Day of Memory and Grief. Parisians lay wreaths to the monument to the Unknown Soldier on the Champs-Élysées. In the UK, where May 8 is not a public holiday, war veterans and military organizations still celebrate it.In Moscow President Medvedev has laid a wreath to the Eternal Light and the Tomb of the Unknown Soldier in commemoration of the Victory Day. Prime Minister Vladimir Putin, head of presidential administration Sergey Naryshkin, and the heads of the Ministry of Internal Affairs and EMERCOM, Rashid Nurgaliev and Sergey Shoigu, were among the officials who participated in the ceremony.People worldwide bring flowers and candles to monuments dedicated to the Victory Day and lay flowers on the graves of their ancestors who died in WWII.In Rio de Janeiro Brazilians marked Victory Day with artillery shots fired from the coastline and from Brazil's patrolling vessel in the ocean, reports RIA Novosti news agency. Defense minister Nelson Jobim together with all the commanders-in-chief and hundreds of residents and tourists attended Victory Day celebrations at the WWII memorial in Rio.In Georgia, the foreign minister, Grigol Vashadze, laid flowers at the monument of the Unknown Soldier in Tbilisi. "The whole civilized world celebrates May 8 as the day of victory over fascism, the ugliest phenomenon in the history of mankind," Vashadze told journalists, congratulating "the people of Georgia, the people of Russia and the peoples of other countries on Victory Day," as cited by ITAR TASS news agency. The main celebrations in Georgia are planned for May 9.In France, President Nicolas Sarkozy took part in the traditional ceremony of honoring the monument to Charles de Gaulle in Paris. After laying flowers at the monument, he set off to Port-Louis in the province of Brittany to commemorate the 69 members of Brittany's Resistance who were shot there by a fascist squad in 1944. Sarkozy praised Brittany's Resistance saying that "in the years when everything seemed lost, these people did not capitulate and finally gained victory and saved France's honor," reports ITAR TASS.
You can share this story on social media: