Running for WWII veterans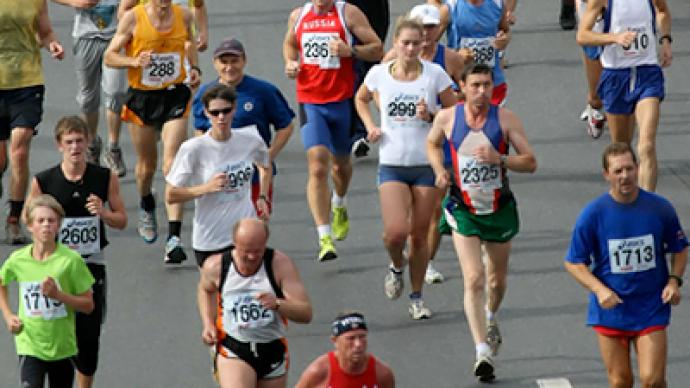 Victory Day, celebrated on May 9 in Russia, is traditionally marked by fun-runs and races all around the Russian capital.
The summer sports season in Moscow usually starts with a relay race and the annual running competition was held for the 84th time on Monday.The race was never cancelled, even during the harsh days of World War II, which is why many veterans flock to this event every year. And some of them believe that sport helped to save their lives."It was winter, our ship was clearing mines at sea and I was thrown overboard. I had little chance of surviving in the cold water. Only a few ever survive. But I was a sportsman, and a champion of my region in running. I was in good shape and that helped me to somehow grab on to the ship, and climb back onboard," Anatoly Filev, World War II veteran, said.Despite not having many participants, the competition remains one of oldest running event in Europe, and veterans can tell lots of interesting stories."This championship used to be a tough battle between Dynamo and CSKA. Once, the son of Joseph Stalin – Vasiliy – was a judge at this race. And Dynamo cheated and used studs to get more grip. When Vasiliy Stalin – who was a massive CSKA fan – found out about it, he cancelled the results and the race was held again – and CSKA won," Aleksey Desyatchikov, a World War II veteran, remembered.Many Olympic champions have taken part in the race, but nowadays, mainly youngsters compete. However, the fact that war veterans attend the event puts more pressure on them.Athletes run on Moscow's main ring road – the 12-lane Garden Ring, which is closed for the race. A rare chance – and a remarkable sight – to see the vast avenue actually empty.And this year, roller bladers decided to use the opportunity, and joined runners on the route.The competition is no longer as popular as it used to be in the Soviet Union, but still, for many people, it is a festival of sport and a traditional chance for war – and sporting – veterans to come together.
You can share this story on social media: