Older than oldest of 7 Wonders: 4,600 yo step pyramid uncovered in Egypt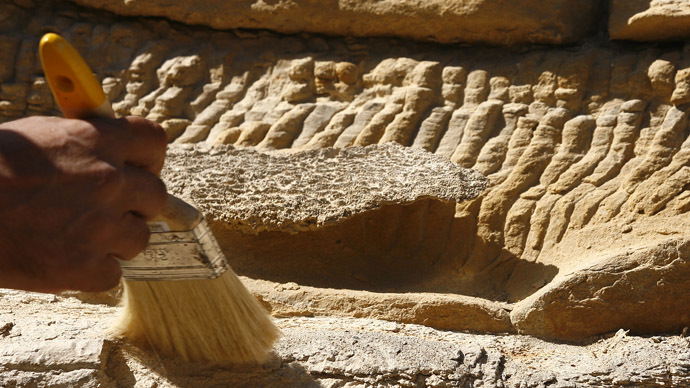 A step pyramid, a few decades older than the Great Pyramid of Giza (the oldest of the Seven Wonders of the Ancient World), has been uncovered by archaeologists in southern Egypt.
Although scientists were aware of the pyramid's existence, it remained buried under a thick layer of sand until a group of archaeologists started excavation works in 2010, according to a report by LiveScience.

The group, led by Gregory Marouard, a research associate at the University of Chicago's Oriental Institute, has recently presented the initial results of its activity at a symposium by the Society for the Study of Egyptian Antiquities, held in Toronto.

The step pyramid, which when built around 4,600 years ago was 13 meters (43 feet) high, has by now become about one third that, as the blocks it was constructed with have been pillaged throughout its centuries-long existence.

It is one of seven so-called "provincial" pyramids built across central and southern Egypt by either the Pharaoh Huni (reign c. 2635-2610 BC) or Snefru (reign c. 2610-2590 BC). Those do not have internal chambers and were not intended for burial. In fact the purpose of the constructions remains a mystery. The most likely explanation so far is that they were used as symbolic monuments scattered over Egypt as confirmation of the pharaohs' divine powers.
4,600-Year-Old Step Pyramid Uncovered in Egypt http://t.co/H0wSG0NMU9pic.twitter.com/GRxF5EIfsJ

— LiveScience (@LiveScience) February 3, 2014
"The construction itself reflects a certain care and a real expertise in the mastery of stone construction, especially for the adjustment of the most important blocks," said Marouard as cited by LiveScience.

A possible clue to the purpose of the building could be the remains of an installation where food offerings appear to have been made, found by the team of archaeologists.

There's also hieroglyphic graffiti discovered on the pyramid's walls. The images include those of a book roll, a seated man, a four-legged animal, a reed leaf and a bird.

"These are mostly private and rough inscriptions, and certainly dedicated to child burials located right under these inscriptions at the foot of the pyramid," Marouard explained.

The researchers believe the inscriptions and burials date long after the pyramid was built and have little to do with its original purpose, to which according to scientists the construction served for less than 50 years.

The pyramid was supposedly abandoned about the same time the building of the Great Pyramid of Giza started under Pharaoh Khufu. A hypothesis holds it that the creation of one of the ancient wonders led to all of the country's resources being poured into the big project, while smaller pyramids were left neglected.
You can share this story on social media: