12 die, hundreds injured celebrating Algeria's World Cup qualification
Published time: 20 Nov, 2013 15:48
Edited time: 20 Nov, 2013 16:31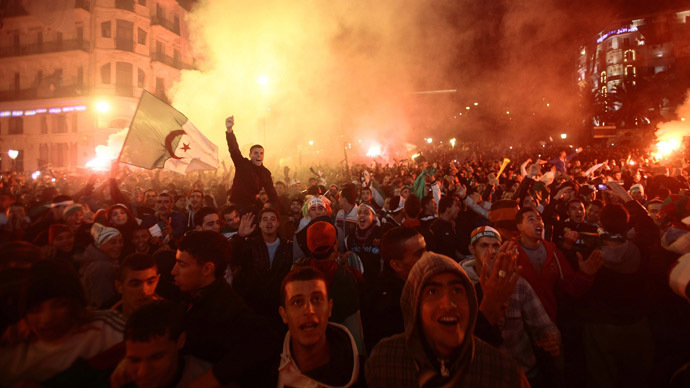 Algeria's celebrations of its 1-0 soccer victory over Burkina Faso took a gruesome turn as 12 people died and 240 sustained injuries, according to a government statement.
Algeria's victory secured its place in the 2014 FIFA World Cup finals in Brazil.

People poured into the streets in celebration, both in the capital, Algiers, and across the country, despite heavy rain, with enthusiastic citizens beeping their car horns and exercising other 'reckless behavior' throughout the country's streets Tuesday night.

During the celebrations, a van slid off a road into a chasm in the northern coastal mountain town of Bejaia, killing five people. Four others died in a car accident in Biskra, further south. A further three people died in other towns celebrating the victory, AP cited government officials as saying.

No further details were given as to the whereabouts or circumstances of the other casualties. 
The nation of soccer enthusiasts will see its fourth World Cup entrance, the last of which was in 2010. Algeria's captain Madgid Bougherra scored the winning goal for the qualifier.