Over 20 killed as Afghan wedding blast targets key MP (PHOTOS)
Published time: 14 Jul, 2012 07:02
Edited time: 15 Jul, 2012 20:46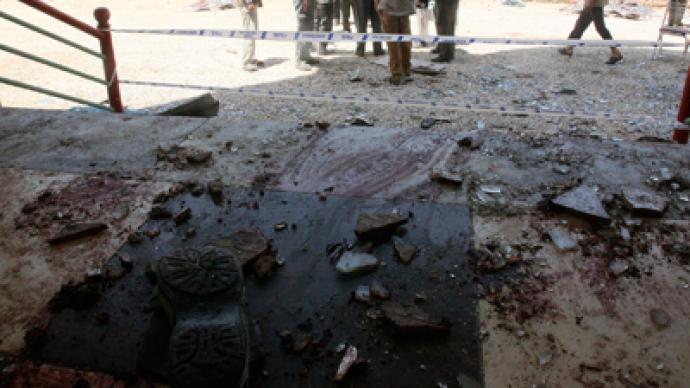 A suicide bomber blew himself up at a wedding hall in northern Afghanistan province of Samangan, killing 23, report local officials. Among the dead was key military commander and Member of Parliament Ahmad Khan Samangani.
The bomber struck as the MP was welcoming around 100 guests to his daughter's wedding in Samangan's capital Aybak. He allegedly approached Samangani and embraced him before detonating his explosives.
Over 40 people were also wounded in the blast.
"It was a big explosion," said criminal investigations director Mohammad Nawab Sherzai who was providing security at the wedding. "There were bloody bodies all around the first floor. The explosion was so strong. There were people even on the third floor who were wounded."
Widespread panic followed the explosions, only after about ten minutes "the people were able to see the bodies and start helping with the wounded," said Sherzai.
MP Ahmad Khan Samangani earned national renown for his role in the Afghan fight against Soviet occupation. He was elected as a member of parliament last year and was looked upon as an important political figure in the northern province of Samangan.
The attack has undermined President Karzai's links with minority groups' representative body the Northern Alliance with a view reconciling the Taliban in the region.
Separately, the Taliban shot dead the mayor of the city of Shindand in the West of Afghanistan, reports Afghan news agency Pazhvak. Gunmen on a motorcycle opened fire on the mayor in the center of the city, killing several others close by.
Ethnic violence in Afghanistan has fuelled fears that local forces will not be able to maintain control after the US army's scheduled withdrawal in 2014.
­
A man stands at the site of attack in Samangan province July 14, 2012 (Reuters / Stringer)
­
A man searches clothes of victims at the site of attack in Samangan province July 14, 2012 (Reuters / Stringer)