Pentagon: US-Pakistani talks stall as no agreement reached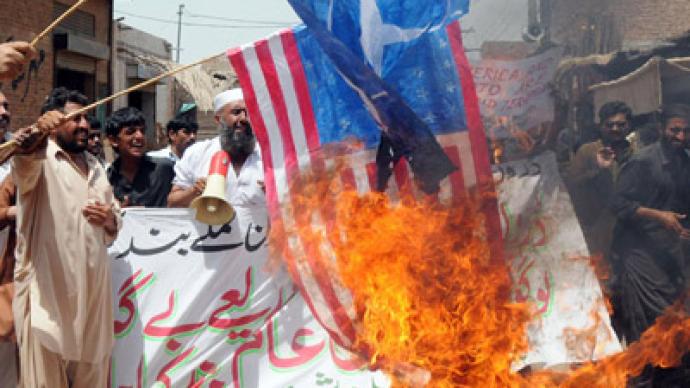 US negotiators are leaving Pakistan with no agreement on a supply route to NATO troops in Afghanistan have been reached.
Part of the US team left Islamabad over the weekend and the rest will leave shortly. However, they will be prepared to return on short notice if circumstances change, Pentagon spokesman George Little said on Monday."We will continue to work through the (ground supply route) matter with Pakistan. And the members of the team that are leaving, or have, left are prepared to return to Islamabad at any moment to continue discussions in person," Little said.Senior Pentagon official, Peter Lavoy, held talks with senior Pakistani officials over the weekend, but he failed to meet with Gen. Ashfaq Parvez Kayani, chief of the Pakistani army, Pentagon said. Little added that the withdrawal was not imposed by Pakistan saying that the team, which has spent six weeks in Islamabad needs a rest. Ties between the long-time partners started souring in 2011 from assassination of Osama bin Laden in May 2011. Pakistan considered that attack "violation of its territorial integrity and sovereignty." Over the years, the US military mission in Pakistan's little-controlled tribal areas was criticized for indiscriminate killing of civilians along with militants. The culmination of the conflict was a US cross-border attack that mistakenly killed 24 Pakistani soldiers last November.  In response to the strike Islamabad closed its territories for the US which actively used Pakistani soil to deploy supplies and troops.In addition to banned routes, Pakistan also denied the US the use of its Shamsi Air base in south of the country.In March 2012 Pakistani parliamentary commission demanded an end to American drone strikes on the country's territory as a condition for renewing Pakistani relations with the US.The withdrawal of US negotiators comes just days after Defense Secretary Leon Panetta said that the US was "reaching the limits of patience". Worsened relations between Washington and Islamabad significantly complicates NATO's military mission in Afghanistan. The alliance had to turn to Afghanistan's northern neighbors. However, alternative routes – from the north through Russia and Central Asian countries – are about two times more expensive than shipping directly through Pakistan. Possibly that is why Pentagon says securing a deal with Pakistan remains a priority for the US and NATO.
It's inconceivable that the US can keep up the occupation of Afghanistan in the long run without at least nominal support from the Pakistani government, Jason Ditz, news editor at Antiwar.com told RT. "It's simply too expensive to use the Central Asian supply route."This tense relationship is going to keep getting worse as Washington is not likely to make any concessions, Ditz believes. "There doesn't seem to be any simple solution right now beyond the US finally coming to its senses and apologizing for the November attacks and stopping the drone strikes."In the wake of the upcoming presidential election, the Obama administration is determined to portray itself as being tough and hawkish on Pakistan. "They don't want to show any signs of weakness," he stressed.