Kabul: US violated security pact in calling deadly air strike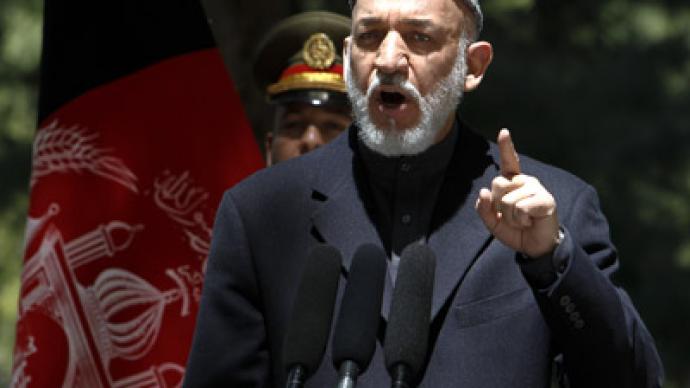 The Afghan president's office said the security accord with the US is at risk after Wednesday's airstrike that killed 18 villagers. The pact is a key part of the withdrawal plan for the NATO-led coalition from the country.
The raid, in the eastern province of Logar, saw a supposedly joint Afghan-coalition force surround a village where a Taliban leader was holed up. In the ensuing firefight, the Americans called an air strike, which killed 18 people, including 5 women and 7 children, who'd gathered for a wedding celebration.Following an Afghan investigation into the event, President Karzai's office blamed US commanders on Saturday for taking a unilateral decision to bomb the village. "The Americans didn't wait for the Afghans to try and flush out the militants and unilaterally called for a strike," presidential spokesman Aimal Faizi said.Kabul believes the act violated the terms of a strategic security pact between Afghanistan and the US, which was signed in the spring. The agreement sets a roadmap for handing over responsibility for security in the country to the Afghan side. Particularly, it sets the Afghan government in charge of special operations like the one in Logar.The Logar incident was the fifth time civilian casualties were caused by unilateral US actions since the pact was signed, Faizi said. He added President Karzai and his advisers decided that, if another unapproved airstrike occurs, the Afghan government will have to consider that the US troops part of an "occupation".NATO disagrees with Kabul's assessment of the situation, saying the Afghans approved the larger Logar operation as a whole.Karzai met with the US commander in Afghanistan, General John Allen, who earlier on Friday apologised for the Logan civilian killings. In a separate statement following the meeting the presidential office said the American general promised Karzai that there would no longer be any airstrikes against Afghan villages.A spokesman for the US forces declined to confirm the statement, saying that the US is "reviewing tactical directives and procedures" following the incident.As the wrangling continued, five NATO troops were killed in Afghanistan in two unrelated bombing incidents. French forces suffered four fatalities in a suicide attack in the Kapisa province, while one soldier was killed in the country's east. A total of 189 international troops have been killed in Afghanistan since the start of the year.The row came as the NATO coalition prepares to pullout of Afghanistan, which should be completed by the end of 2014. As the deadline gets closer, Afghan security forces will assume combat operations, with foreign troops involved only in logistics and training.