ISAF in Afghanistan: Murder case, new torture evidence, possible war crimes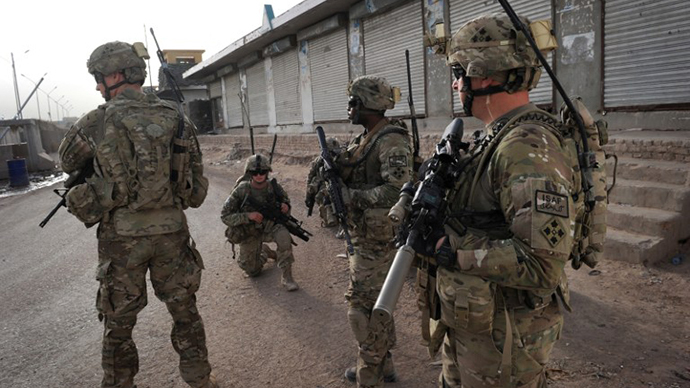 A murder case against Royal Marines in the UK and evidence of American-enabled torture by Afghan National Army personnel and war crimes by US Special Forces contribute to the latest snapshot of the darkest aspects of war-torn Afghanistan.
A Rolling Stone investigative report published Wednesday alleges US Special Forces may have been responsible for the murders of up to 18 Afghans, including 10 deaths of villagers in the Wardak province west of Kabul.

From late 2012 to early 2013, bodies of 10 Afghan villagers were found near an American military base in Wardak Province. These discoveries came before the Green Beret "A-Team" was forced by Afghan President Hamid Karzai to vacate their base in April.
"After a thorough discussion, it became clear that armed individuals named as US Special Force[s] stationed in Wardak province engage in harassing, annoying, torturing and even murdering innocent people," a statement from Karzai's office said at the time.

All the men found dead had been detained by the squad, yet what led to their deaths remains a mystery. Journalist Matthieu Aikins, author of the report, said he believes based on interviews with the group's now-incarcerated translator, Zikria Kandahari, that the incidents began after the leader of the Green Beret team was wounded in late October 2012.
Before the Rolling Stone report, the identity of the American unit was unknown despite investigations into the dead Afghans by the United Nations, the Afghan government and the Red Cross. The US military had denied allegations up until the beginning of their own investigation in July following, it says, the Red Cross report that offered new information.
Aikins told Democracy Now he "established conclusively that these men who disappeared were picked up by American forces, often in these mass roundups in villages in broad daylight."
Before the US investigation began, the murders instigated demonstrations in Afghanistan and rankled negotiations between the Afghan and US government regarding whether American-led International Security Assistance Force (ISAF) troops will have legal immunity beyond the official 2014 withdrawal of forces.
Aikins says the US investigation curiously never ran into his own five-month process of interviewing key witnesses and family members.
In addition to the 10 bodies unearthed near the Wardak base, the Green Beret squad was connected to an additional eight Afghan deaths.
Beyond the "A-Team" investigative report, Rolling Stone and Aikins released Thursday an unrelated video of what appears to be a mix of Afghan National Army personnel and interpreters interrogating and torturing a prisoner as unidentified American soldiers watched nearby. Aikins says, based on their facial hair and uniform, the Americans are quite possibly Special Forces that arrived in Afghanistan as early as 2010.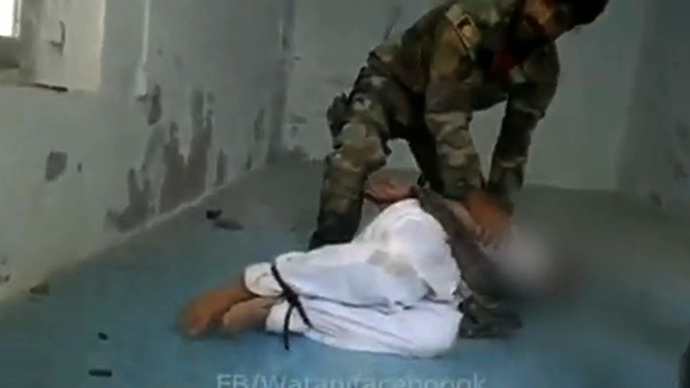 Investigations by the UN, the US Congress and human rights groups have shown torture is endemic amid the American-trained Afghan security forces.
Meanwhile, in Britain, three Royal Marines are standing trial for the execution of a wounded insurgent in Afghanistan's Helmand Province in September 2011.
The judge in the case released Thursday audio of Marines A, B and C (who have gone unnamed to protect their safety) as they allegedly murdered a man seriously wounded by helicopter fire as they were doing "damage assessment" duty afterwards.
The event was recorded by one of the marines wearing a helmet camera. The judge barred release of the six-minute video as to prevent use of it as propaganda, though still shots of it were released. The panel, after hearing evidence in the case for two weeks, will now consider the audio as they deliberate.
Marine A is accused of killing the wounded man, and Marines B and C are accused of being party to the alleged murder. The trio say they believed the man was already dead, and that they shot him to let off steam.
Marine A can be heard quoting Shakespeare's Hamlet before he shoots the insurgent with a 9 mm pistol.
"Shuffle off this mortal coil, you c--t."
He then says, to the others' laughter, "Obviously this doesn't go anywhere, fellas. I just broke the Geneva Convention."
The group banters what next to do with the body.
"Err, anybody want to do first aid on this idiot?"
"No"
"Nope."
"Could put one in his head if you want? Take your pick."
"Not in his head because that will be f---ing obvious."
The incident allegedly happened after a patrol base came under attack from two insurgents' small arms fire.
Diary excerpts from Marine C released by the judge suggest he wanted to kill the insurgent, but Marine A got to it first.
"An execution of a man who was entitled to be treated with dignity and respect and entitled to be treated as any British serviceman or servicewoman would be entitled to be treated in a similar situation," said prosecutor David Perry, The Independent reported.
You can share this story on social media: