Afghanistan: No rush to sign security pact with US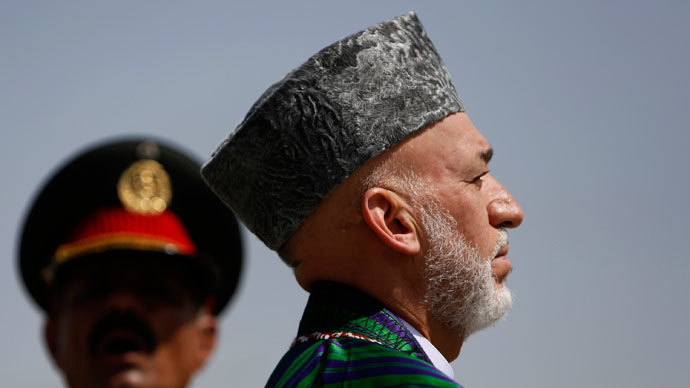 As NATO-led forces prepare to exit from the Afghan theater by the end of 2014, Afghanistan President Hamid Karzai is ruffling Washington's feathers, saying he is no hurry to finalize how many US troops will stay in the country.
The United States has been exerting pressure on Afghanistan to finalize a bilateral security agreement (BSA), which will determine how many, and where, American soldiers will remain once the NATO mission ends it operation.
While US diplomats have said they want the security agreement to be a done deal by October, Karzai, who has expressed dissatisfaction with Washington's handling of many aspects of the 9-year military operation, has said that he may wait until after presidential elections in Afghanistan before making any commitment.
"Although the Americans asked for October, we are not in a hurry and if the document is agreed upon during this government, good," Karzai told reporters at his Kabul palace on Saturday. "And if not, the next president can discuss whether or not to accept it."
Washington is arguing that unless the matter is resolved now, it could become an issue in the campaign for next year's Afghan presidential election. The US understands this from past experience.
In 2011, similar talks with the Iraq government collapsed over Iraq's refusal to provide immunity to US soldiers serving there. This decision prompted the United States to yank its troops out of Iraq.
NATO-led troops are scheduled to wind down the military operation against the Taliban insurgents in Afghanistan by the end of 2014. At that point, the security details will be handed over to Afghan forces.
The commander of international forces in Afghanistan, US General Joseph Dunford, in an interview with Reuters on August 13th, said he had discussions "at every level from district and province to members of parliament ... to President Karzai" and he was adamant the pact would be signed.

The question of a continued US troop presence in Afghanistan, a subject that strikes a nerve with many Afghanis, is just the latest issue to test the relationship between President Karzai and Washington.

When US officials attempted to hold peace talks with the Taliban in June, Karzai said it looked like an attempt by the Americans to cut him out of the political process.

Karzai has also scolded the United States on multiple occasions over civilian deaths, including a "unilateral" US decision in June of last year to conduct an airstrike in the eastern part of the country in a village where Taliban fighters were believed to be hiding. Afghan officials said that aside from the killed Taliban militants, 18 civilians were also killed in the US attack, many of the victims women and children.
The question now is whether Karzai has enough support from the Afghan people, as well as the necessary security apparatus, to embrace Afghanistan's future without further assistance from US soldiers.

You can share this story on social media: