Hundreds of Afghan asylum seekers demand residency permits in Belgium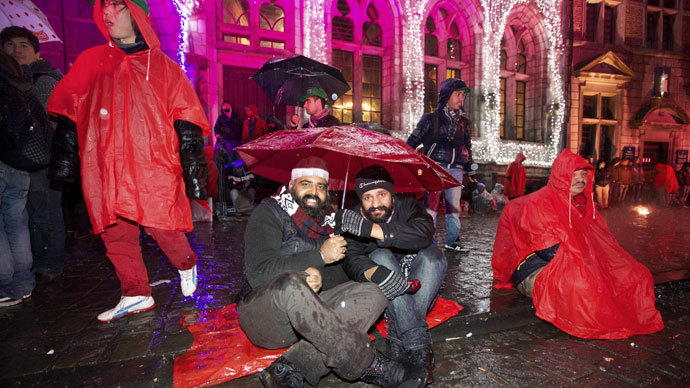 Up to 350 Afghan asylum-seekers and their supporters set up a camp in Belgium's western town of Mons, urging local authorities to arrange a meeting with Belgian Prime Minister to demand residency papers.
The town's authorities decided to put an "emergency plan" in place after several hundred Afghans gathered together in front of the mayor's office. Regardless of heavy rain and strong winds, the demonstrators had marched about 70 kilometers from Brussels to see Prime Minister Elio Di Rupo, who also serves as the Mayor of Mons. It took them three days to get to Mons.

When they finally made it Sunday afternoon, they were told that Di Rupo was on a trip abroad and would not return until Monday. Hundreds of exhausted asylum-seekers chose to spend the chilly night right in the town's main square until they finally get to see the prime minister.

Di Rupo had previously stated that individual cases of those demanding residency papers would be studied rapidly, local media reported. However, his response did not satisfy the asylum-seekers, who asked for a clear position from the government on the subject, and an official guarantee that there would be no expulsions.

While the Prime Minister has at least promised to study their cases, his Secretary of State for Asylum and Migration and for Social Integration, Maggie De Block, informed that the Afghans' requests would be processed as for any other illegal immigrants.

"This isn't normal: they've got two visions in the government - that of the Foreign Minister who states that they [Afghans] should not be left to go back to the country torn by war, and that of Maggie De Block who suggests just the opposite," one of the organizers of the protest, Oscar Floreffe, told RTBF.

"We have arrived in Mons to meet the Prime Minister to show the government that it's not easy to return to Afghanistan," the protesters' spokesman Samir Hamrad told the Belgian radio. "They are scared of going back. We've come here to find a way-out."

The protesters have rejected the proposal of the local authorities to provide them with a heated room.

"The police and also medical aid are on standby. In this case, the top priority is to provide them with blankets and food," town spokeswoman Juliette Picry told Belgium's La Libre newspaper.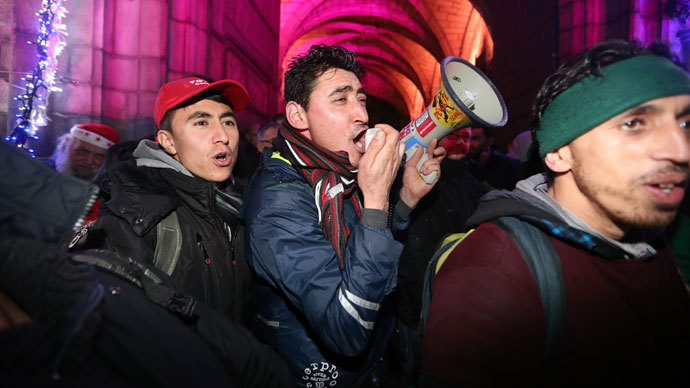 A number of Belgians took part in their march to support the protesters.

"For some of those I've talked to, to go back to their country means to be sent to death, or at least to end up in a very, very difficult situation. To come here from Afghanistan wasn't an easy ride. Those people had to spend every last penny, now they just live in solidarity..." one of the supporters noted.

The Afghans had been occupying a church in the Belgian capital, Brussels, for four months in a protest demanding permission to legally stay in the country. They gained the support of the archbishop of Mechelen-Brussels who said that "to accommodate these people is an act of political charity, really."

"I'm ready to join their march. To send somebody to Afghanistan is extremely dangerous, these people deserve a home. I think that Europe is lagging behind, in comparison to other continents, in terms of providing refuge. I know that Belgium cannot accommodate everybody, but along with our regulations, we must also keep our hearts open," Andre Leonard told RTBF.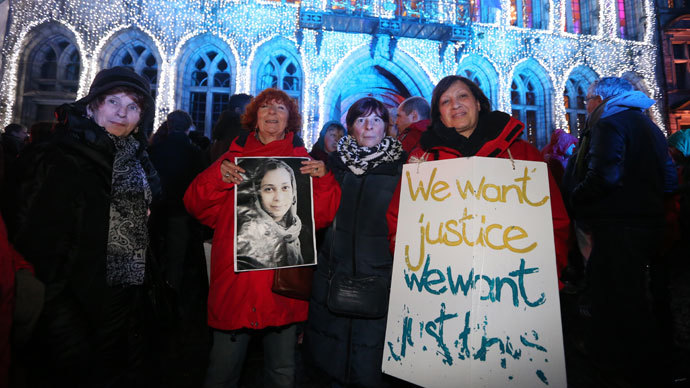 Over 30,000 Afghans applied for political asylum worldwide in 2011, according to United Nations statistics, a 25 per cent increase on the previous year. It's believed that the actual figures are still higher, though. In 2012 Afghanistan remained the main country of origin of asylum-seekers (36,600 claims versus 36,200 in 2011), according to the UN Refugee Agency. Syria was the second largest, the conflict there reflected in a jump from 15th place in 2011 and a 191 per cent increase in asylum claims to 24,800.

In 2012, there were 332 000 asylum applicants registered in the EU27, the European Union of 27 Member States. Afghanistan, with 8 percent of the total number of applicants, remained the first main country of citizenship of these applicants, according to Eurostat.

Germany, France, Sweden, the United Kingdom and Belgium register 70 percent of all applicants. In 2012, the highest number of applicants was registered in Germany (77 500 applicants, or 23 percent of total applicants), followed by France (18 percent), Sweden (13 percent), the United Kingdom (8 percent) and Belgium (8 percent).
You can share this story on social media: