Flipping off a whole plane: Russian airline hostess fired over middle-finger blog photo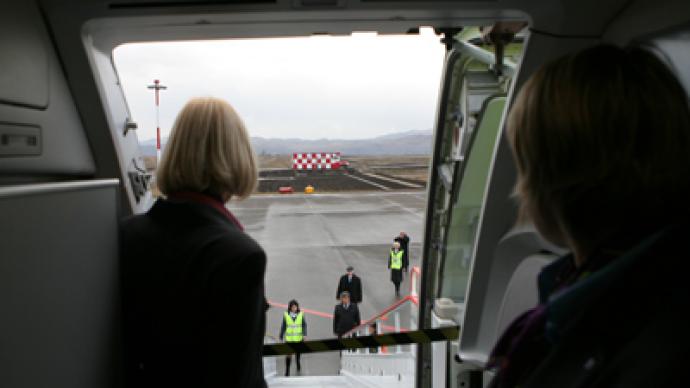 A web photo of a Russian airplane host raising her middle finger at passengers has resulted in her firing. Aeroflot sacked the girl over her blog post, though she insisted it is not her hand in the picture and the plane belongs to another airline.
The picture appeared on Tatiana Kozlenko's wall in Vkontakte (one of Russia's most popular social networks) back in October 2011, and since that time has earned dozens of 'likes.' The picture recently became a scandal when it caught the attention of renowned Russian blogger Ilya Varlamov, who reposted it on Twitter, prompting hundreds of re-shares. Aeroflot reacted by promptly firing the girl.  The story has sparked heated debate in the Russian Internet community. Many bloggers do not approve of the company's decision, posting comments like: @oleg_kozyrev "Why do they blame someone for a photo posted on a personal page? This is common office humour. Is it prohibited to joke in Aeroflot?"Aeroflot wrote on its official Twitter account Monday morning that it was justified in firing Kozlenko: "The fact of posting a photo shows Tatiana's attitude towards passengers and her duties. She acknowledged her fault when she spoke to the leadership of the company." Kozlenko argued the opposite on her Vkontakte page: "I don't consider myself guilty! The photo was added to my page, I only tagged myself on it!!! The hand isn't mine, the plane is not my company's!!! I don't understand what they spoil my life for!!! I'm asking you for help and support!!!"The girl is not the first Aeroflot steward to lose her job over an Internet post. Last May, air hostess Ekaterina Solovyeva was fired after she mocked the crash of a Sukhoi Superjet-100 in Indonesia. 'Office humor' is often discouraged by Russian big companies. Last August, one of the country's top banks, Sberbank, sacked a PR staffer after she posted a joke about elderly bank clients on the company's Twitter.
You can share this story on social media: