Firing line: Sberbank boots employee over Twitter joke
Published time: 10 Aug, 2012 15:36
Edited time: 10 Aug, 2012 19:37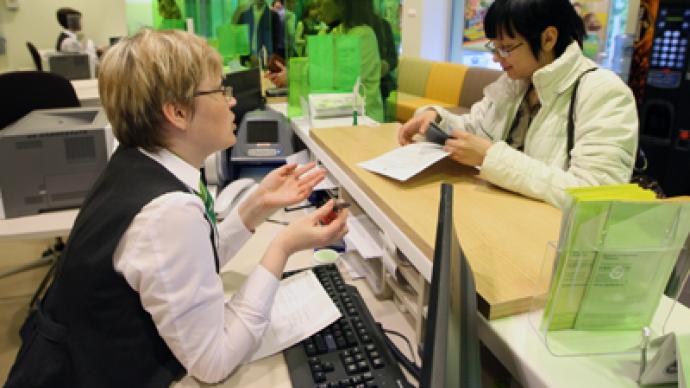 One of Russia's top banks has sacked a PR staffer after a joke on the corporate Twitter feed drew an off-line storm. The message alluding to queues of elderly citizens, frequent in many offices of the bank, cut pensioners to the quick.
­"Folk recipe: If you draw the word 'Sberbank' on a wall, a queue of 30 old retired women will turn up. Ever tried? Does it work?" Sberbank's Twitter flashed on Thursday.

The message was shared over 500 times before it was deleted. However, it still had time to reach the retirees in question, who mostly lead an off-line life. The Russian Pensioners Union slammed the joke as an "unacceptable prank" and threatened to send a complaint to the bank's head, Herman Gref.

The Twitter community became split, with the younger audience sniggering and the older wondering what was going on at the bank if employees scan tart lashing out at customers. Others snidely commented that the bank had finally accepted it does have a queue issue and sometimes acts like a deaf wall to customers' requests.
­
A printscreen of the controversial message by @sberbank (Image from Twitter.com)
­
An apology followed almost instantly.

"We emphatically prohibit any disrespect to our clients, especially to the elderly group," the CEO Deputy Bella Zlatkis said on Friday, adding retirees are the bank's "top priority group" and promising the episode would never ever be repeated. State pensions in Russia are operated through Sberbank.

Zlatkis also said the PR manager at the fault will have to seek employment opportunities outside the bank, reports PRIME news agency.

The bank's management explains the somewhat loose tone of the corporate Twitter feed is part of their online re-branding attempt, Izvestia daily reports. Sberbank wants to get closer to its web public and has opted for a less official tone, though Thursday's instance was way over the top, the management adds.
Sberbank Rossii (Savings Bank of Russia) is one of the largest banks in Russia and Eastern Europe. Founded in 1984, it emerged through the USSR period as the core public bank and now most Russians in their old age still associate it as the only available banking service.

Long aggressive lines became the bank's stigma after the '90s. Though the situation has largely improved, especially since an on-line banking system was introduced, many conservative-minded retirees still prefer to come to the bank instead of using the internet.

This is not the first time a Russian company has fired an employee over a Twitter message. A stewardess for Russia's leading airline Aeroflot got fired after writing a derogatory comment over the crash of a Sukhoi Superjet in Indonesia in May this year.