Two market explosions kill 14, wound over 100 in India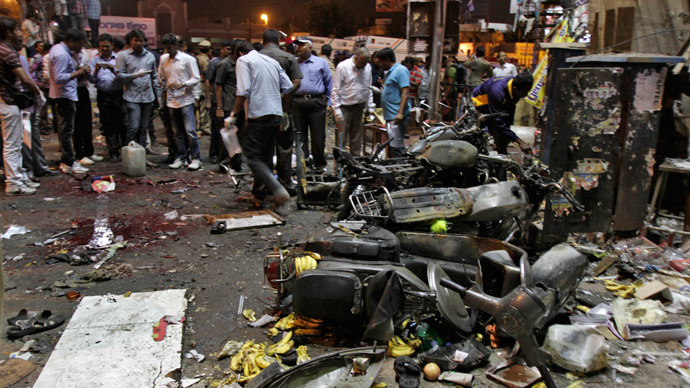 At least 14 people died and 119 more were injured following two explosions in a market in India's southern city of Hyderabad on Thursday.
The explosive devices were installed on bicycles and went off just after dusk in the Dilsukh Nagar area of Hyderabad in a market place, AFP reports. The area is a crowded neighborhood of cinema halls, shops, restaurants and a fruit and vegetable market.
"This is a terror attack for sure," Hyderabad deputy inspector of police Shiv Kumar told AFP, while adding there had been no claim of responsibility.

The blasts occurred about two minutes apart. The bombs were apparently intended to hurt as many people as possible. Local TV stations have since aired debris and body parts strewn on the street.
Six injured remain in critical condition.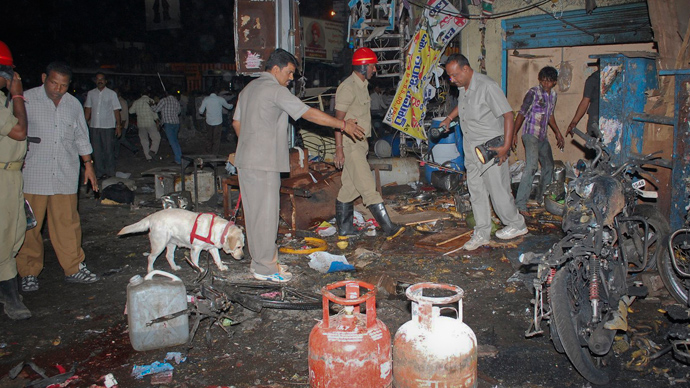 Friday India's officials contradicted an earlier claim that country's security services had not picked up any alerts of a possible attack in Hyderabad.
According to Home Minister Sushil Kumar Shinde, Indian intelligence received warnings of an unspecified security threat several days before the bombs went off. 
"No intelligence was given that [in] a particular area it will happen. A general alert was given in the past two to three days to the whole country. And that's all," Reuters quotes Shinde as saying. 
Police has been stationed throughout the city to prevent violence between Hindu and Muslim communities.
A day-long strike has been organized on Friday by the main opposition group, the Hindu nationalist Bharatiya Janata Party, to protest against the attacks.
Hyderabad is a city in northwest India with a population of around 10 million.  It's seen as a hub for India's information technology industry and has a mixed population of Muslims and Hindus.
The blasts came on the same day, as India's parliament opened for its key budget session, amid tensions following the hanging earlier this month of the Kashmiri separatist, Mohammed Afzal Guru.
The last terrorist attack in India occurred in September, when a bomb blast outside a New Delhi court house killed 13 people.
You can share this story on social media: