After the terror, the anger: Mumbai protests continue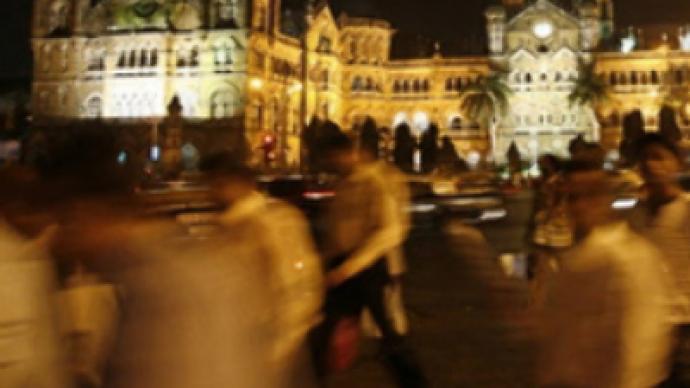 A week after Mumbai was struck by coordinated terror attacks, hundreds of its residents gathered near the Gateway of India on Wednesday evening for a protest rally to condemn the strikes and pay respects to the victims. The Gateway is a stone's throw away
The recent terrorist attacks on Mumbai in India have sparked national outrage. "Enough is enough" is a catchphrase now of all the people in Mumbai and across India.
Many Bollywood personalities like Priety Zinta, and people from all spheres of life, came to the venue holding torches and shouting slogans like "We want actions, not words." A similar protest march is being organised in New Delhi as well as rallies in other cities in India.
Javed Akthar, one of the artists from Bollywood said: "Those who did this are seeing us now on TV. Let them know that we are here, and will not be defeated in 100 years."
Hotel management student Sagar Khod was carrying a handmade poster 'Terrorists must die a slow death.' He says this is the only way they will understand what Indians feel. He is also here to pay his respects and tributes to everyone who fought the terrorists.
Dharmendra Goel, one of the participants at the Gateway of India, wants to know why the hands of the military have been tied. "Why are we not taking back Pakistan occupied Kashmir (PoK) once and for all? This indecision is the cause of all the problems were are facing."
Roads are packed with people right from Colaba Police station up to the Gateway and Regal and the authorities have kept ambulances on standby. In front of Leopold café, one of the major terror destinations, Mumbai Meri Jaan ( Mumbai my love) T-shirts were selling for 100 rupees.
People carrying candles and placards in memory of the victims reached the Gateway, and paid tributes to those who had fallen to the terrorists' bullets and grenades, including brave policemen and National Security Guard (NSG) commandos.
People were seen shouting slogans against politicians, blaming them for the state of affairs in the country.
One protester, Sandeep Singh, said: "Do not worry about those who have come through boats, our forces can easily defeat them. Worry about those who have come through votes. Those are our real enemies. What a shame and disgrace to every citizen of India that the elite NSG Force was transported into ordinary BEST buses, whereas our cricketers are transported into state of the art luxury buses, these Jawans lay down their lives to protect every Indian and these cricketers get paid even if they lose a match, we worship these cricketers and forget the martyrdom of these brave Jawans.
"The Jawans should be paid the salaries of the cricketers and the cricketers should be paid the salaries of the Jawans. An ace shooter shoots and gets gold medal, the government gives 3 crore, another shooter dies while shooting a terrorist, govermentt gives 5 lakh. Who deserves more? This is our India. We are the young blood……it can take time but we can change it."
Ramesh, a resident of suburban Bandra, said: "I feel that politicians should be made answerable for their actions, or like in this case, inactions which are causing the country dearly."
Devang said: "Why should we depend on America for our security, it's high time to have war and clean our house from these pesticides."
Kalyani Dey from Bilaspur said: "The bomb recovered today at CST station in Mumbai is a way to distract us from the right path – we are going to find that terrorist. This is just a way to distract us so that we would busy in such things and the terrorist might plan any other blast in other place to again wound us. But this time they are not going to win because not only the police, army, media is with the country but also the common people. Just like us started a mission to end terrorism and again establish our dream India, a terror free India, a developed India."
Keya Dasgupta said: "What a shameful life we are living. Our Jawans are fighting a cause somehow or the rather our politician are corrupted. And we citizens are even worse than them. We elect these buggers. The time has come when we should react. Let us stand together and fight with this corruption. Salute to all those who have taken the bullets on themselves and saved us. Let us promise that their blood will not go in vain.
Bomb Found At CST
A time-bomb was defused at the Chhatrapati Shivaji Terminus, one of the first places where terrorists struck last Wednesday. Nearly four kilograms of RDX explosives were put in two school bags that were kept at the parcel wing of the station, near platform 15. The bag was spotted among the luggage of 26/11 victims.
Nidhi Sharma for RT
You can share this story on social media: