Italian mafia trial hands down 2,200 years in sentences
Politicians and police were among the over 200 people convicted of collaborating with Calabria's powerful 'Ndrangheta organization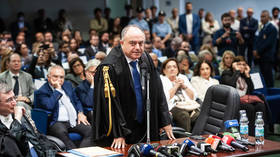 An Italian court sentenced 207 members and associates of the 'Ndrangheta criminal organization to a total of over 2,200 years on Monday, concluding the first phase of the largest mafia trial the country has seen in nearly four decades.
Defendants were charged with a laundry list of crimes including murder, drug trafficking, bribery, extortion, and criminal association.
The trial focused on the Mancuso family, one of the most powerful in the 'Ndrangheta, though family boss Luigi Mancuso will be tried separately after his nephew turned state's evidence. Alleged clan bosses Saverio Razionale, Paolino Lo Bianco, and Domenico Bonavota received the harshest sentences at 30 years each.
"We have finally demonstrated that there was a network of white-collar workers, entrepreneurs, and politicians doing business with the Calabrian clans," prosecutor Nicola Gratteri told The Guardian on Monday, adding that his office was "very satisfied" with the results.
High-profile individuals found to be ensnared in the criminal group's operations included former Forza Italia MP and Berlusconi deputy Giancarlo Pittelli, who was sentenced to 11 years for allegedly collaborating with the 'Ndrangheta and having political ties with the Mancuso family. A police chief, mayors, local councilors, and high-profile businessmen were also sentenced.
Millions of euros in property and cash were seized in the course of the investigation, titled 'Operation Rinascita-Scott', which culminated in the arrest of over 400 suspects across Italy, Bulgaria, Germany, and Switzerland in 2019.
Flush with funds from controlling 80% of Europe's cocaine traffic, the organization had allegedly bought up numerous legal businesses to help launder their illicit cash, from hotels and restaurants to car dealerships.
The trial began in January 2021 in Calabria, the 'Ndrangheta's regional stronghold, in a bunker-style courtroom built for the occasion in the city of Lamezia Terme.
Prosecutor Vincenzo Capomolla hailed the verdict for liberating the province of Vibo Valentia from the crime ring, which he said was "so deep-rooted, widespread, alarming and disturbing that I believe it can be said that there was no area of life, of its economic and social fabric, that was not conditioned by the intimidation of such a dangerous organization."
In addition to the 207 individuals sentenced on Monday, 70 others had been sentenced in 2021 after opting for a speedy trial, a procedure that eliminates the judicial debate phase in exchange for a reduced sentence. Another 131 were acquitted or let off the hook by the statute of limitations, according to Italian media. Most reportedly plan to appeal their convictions.
The 'Ndrangheta is the most powerful criminal group in the world, with operations on all inhabited continents and an estimated €53 billion ($58 billion) in annual profits, according to Demoskopita Research Institute.
You can share this story on social media: