NATO state sends military to Russian border
Finland has accused Moscow of weaponizing the EU migrant crisis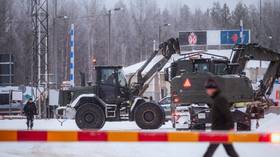 Finland has deployed soldiers to reinforce the Vartius crossing on its 1,340-kilometer border with Russia.
The troops were sent to the checkpoint, one of four that remain in use, following Helsinki's decision to close southern crossings amid accusations that Russia is "funneling" migrants and asylum-seekers from third countries to the Finnish border.
"At the Vartius border station in Kuhmo, temporary barriers are being built in the border area. The Defense Forces support the Border Guard in construction tasks," Helsinki's Border Guard said on X (formerly Twitter) on Sunday, adding that the soldiers were not involved in controlling the border itself.
Border station director Juoki Kinnunen confirmed to Finnish broadcaster Yle that the military was erecting temporary security barriers at the checkpoint.
On Saturday, Finland closed the Vaalimaa, Nuijamaa, Imatra and Niirala entry points in the country's southeast, citing the need to prevent an influx of asylum-seekers. The authorities also reported a surge in illegal crossings by migrants from Syria, Yemen and Iraq.
Finnish Defense Minister Antti Hakkanen described the closures as "a crystal-clear message to Russia," which he claimed is using refugees to "accelerate the migrant crisis in Europe and destabilize its unity." Interior Minister Mari Rantanen argued that Moscow may be "annoyed by Finland's activities."
The move to close the border was opposed by some Finnish residents, including Russians living in the country and those with dual citizenship. Several hundred people held a protest in Helsinki on Sunday, denouncing a new "Iron Curtain," according to Euronews.
Russian Foreign Ministry spokeswoman Maria Zakharova rejected the allegations of weaponizing migration as "completely baseless."
"Russia has never in its recent history threatened Finland. We did not have a reason for confrontation," Kremlin spokesman Dmitry Peskov said this week, arguing that the closure of the border crossings would be "a big mistake" on Helsinki's part.
Like all other EU member states, Finland imposed sanctions on Russia over its ongoing conflict with Ukraine. Finland had also ditched its traditional non-aligned status and joined NATO in April 2023. Russia, meanwhile, has repeatedly named the continuing expansion of the US-led military bloc eastward as one of the root causes of the current tensions with NATO.
You can share this story on social media: