Israel undecided on next steps in Gaza – media
The country's leadership is debating whether to invade southern Gaza or reach an interim deal on hostages, the Jerusalem Post reports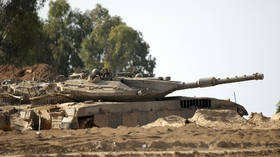 Israeli military and civilian leadership are locked in a debate "at the highest levels" about what next steps to take in Gaza, the Jerusalem Post reported on Thursday, citing sources familiar with the discussion.
The options reportedly include expanding the ongoing military operation into the southern part of the Palestinian enclave or reaching an interim deal with the Hamas militant group, exchanging at least some Israeli hostages for a pause in hostilities or the release of Palestinian prisoners.
According to the newspaper, even the possibility that Israel and Hamas might be close to some sort of deal "may currently be slowing the push into southern Gaza."
Both military and civilian leadership in Israel have repeatedly vowed to crush Hamas and secure the release of Israeli hostages captured by the Palestinian group at the beginning of the conflict. Thus far, Israel has not made much progress with the latter goal, the media outlet acknowledged, adding that now might be the moment when a "balancing" of the two proclaimed goals occurs.
The report suggested that the military appears to be eager to continue fighting no matter what. On Thursday, the chief of staff of the Israel Defense Forces (IDF), Lieutenant-General Herzi Halevi, unambiguously said he would be pushing further south "if it were up to [him]."
At the same time, Israeli Defense Minister Yoav Gallant spoke about moving the war into new "stages" but did not say anything about attacking the southern part of Gaza, the newspaper noted.
The latest escalation between Hamas and Israel began on October 7, when the Palestinian militant group launched a surprise attack in the south of the country, breaching the border at multiple locations.
The group took dozens of hostages, military and civilian alike, holding them in Gaza since then. Only a fraction have been released, while some hostages ended up killed by Israeli airstrikes during the operation in Gaza, Hamas has claimed.
Israel responded to the attack with a heavy bombing campaign in Gaza, which has resulted in massive civilian casualties and widespread destruction in the enclave. The IDF also launched a ground operation, splitting the enclave in two and focusing on the north, where the military have managed to seize control of a broad area.
The idea espoused by some is that the IDF's strategic position in the northern part of Gaza means it could take a "natural pause" while expanding the operation into the south.
However, moving into the south will require the military to commit "large numbers of air, sea, and ground forces" and "maneuver a huge logistics complex" across the country to sustain it, the Jerusalem Post warned.
You can share this story on social media: