Israel 'losing PR war' – expert
Marc Owen Jones mocked "comically bad" propaganda stunts, such as the fake "Palestinian nurse"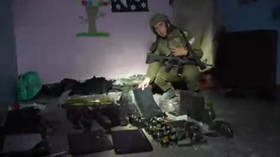 The Israeli government is resorting to "preposterous" and "increasingly wild" disinformation online and appears to have lost control over the narrative about its war on Hamas in Gaza. That's according to Marc Owen Jones, who is associate professor of Middle East Studies at Hamad bin Khalifa University, and expert on digital authoritarianism and social media disinformation.
Jones, in a piece for teh Daily Beast pointed to the November 11 video posted by the Israeli Foreign Ministry's Arabic-language account on X (formerly Twitter), showing a "Palestinian nurse" condemning Hamas for taking over the al-Shifa hospital in Gaza.
"Everything about it smacked of high school theater – from the botched accent that sounded like it was straight out of an Israeli soap opera to the perfectly scripted IDF talking points rolling off her tongue," Jones wrote.
The nurse had a "pristine white lab coat" and "immaculate" makeup, but no one at al-Shifa had ever seen her before, he added. The video was mocked so much that Israel Arabic deleted it within a day.
Since Israeli Prime Minister Benjamin Netanyahu launched a war on Gaza after the October 7 Hamas attack that killed an estimated 1,200 Israelis, public opinion in the West, initially sympathetic to Israel, has steadily turned against West Jerusalem amid the rising death toll in Gaza.
The most recent estimates by local authorities are that over 11,000 Palestinians have died in Israeli airstrikes and ground operations – including 4,500 children. Jones argued that Israel is engaging in "increasingly desperate disinformation," seeking to "dehumanize Palestinian children" as "worth killing" since it can no longer deny killing them.
Netanyahu has insisted that Israel is not targeting civilians and blamed Hamas for using them as human shields. Israeli advocates have also denounced online speculation that the Israel Defense Forces (IDF) killed their own citizens – including Nova Festival concertgoers – during the October 7 Hamas incursion, claiming the reports from Israeli media to that effect were mistranslated and misattributed.
According to the Daily Beast, Israeli "desperation is evident in a seemingly unstemmable tide of preposterous claims," such as the "annotated and pristine copy" of Adolf Hitler's Mein Kampf allegedly found in a child's bedroom in Gaza on November 12.
A day later, IDF spokesman Daniel Hagari claimed to be in the basement of al-Rantisi Hospital in Gaza, where he said Hamas had kept some of the 200-plus Israeli hostages. The key evidence for his claim was a piece of paper with Arabic writing posted on the wall, which he called "a guardian list, where every terrorist writes his name, and every terrorist has his own shift, guarding the people that were here."
According to Jones, however, the piece of paper wasn't a list of names but of the days of the week.
You can share this story on social media: