Israel must keep a 'strong force' in Gaza – president
Post-war governance of the Palestinian enclave must prevent a Hamas resurgence, Isaac Herzog has told the FT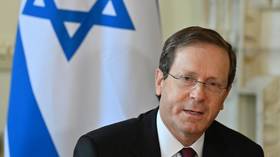 Israeli President Isaac Herzog has said his country must retain a "very strong force" in Gaza once the current conflict subsides, in order to prevent Hamas from regaining a foothold in the besieged enclave.
As international scrutiny and outrage swells more than a month into its retaliatory operation in Gaza, following the Hamas assault on October 7, some of Israel's closest allies, including the US and France, have begun to question if an exit strategy is in place.
Post-war Gaza, according to Herzog, will retain an Israeli military presence. In an interview with the Financial Times published on Thursday, the Israeli president said the government is discussing several proposals for when the war with Hamas ends.
There is an expectation that Washington and "our neighbors in the region" will have an influence over Gaza's post-conflict status quo, he added, but warned that Hamas cannot be provided with a platform to galvanize its forces in any resulting power vacuum.
"If we pull back, then who will take over?" Herzog told the newspaper. "We can't leave a vacuum. We have to think about what will be the mechanism; there are so many ideas that are thrown in the air. But no one will want to turn this place, Gaza, into a terror base again."
Herzog argued that this will only be possible by Israel maintaining a "very strong force" in Gaza to prevent future Hamas attacks on Israeli territory.
The president was speaking against growing international condemnation of Israel's unprecedented bombardment of the densely-populated enclave.
Palestinian officials said on Wednesday that at least 11,320 people have so far been killed by retaliatory Israeli artillery, airstrikes, or ground offensive operations. Gaza's Health Ministry has reported that 4,650 children and 3,145 women are among the dead. The UN has estimated that more than 1.5 million people have so far been displaced by the conflict, and that the Gazan healthcare system has almost entirely collapsed.
Some Western officials have expressed concerns that no blueprint for post-war Gaza yet exists, the FT reported. Israeli Prime Minister Benjamin Netanyahu has vowed to fully "eliminate Hamas" by force, despite the group holding significant influence in Palestinian society and having both political and military factions.
In an interview with CBS last month, US President Joe Biden warned Israel against reoccupying Gaza or reducing the size of the Palestinian territory, although Netanyahu has previously stated that Israel must hold "overall security responsibility" over the enclave.
"At the end of the day, we have a duty to protect our people," Herzog said, but added that he had listened to the concerns of allies such as the US "very carefully."
You can share this story on social media: